Luna: The Science and Stories of Our Moon (Hardcover)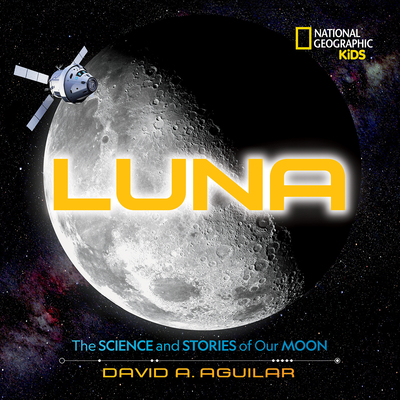 Description
---
Explore the moon from all angles, from its place in the night sky and our solar system to its role in shaping human history and culture.

Through gorgeous illustrations and photography, see the moon like you've never seen it before. Read myths of the moon's creation from around the world. Discover the science of how the moon actually formed. Learn all about the moon's effects on Earth's tides and imagine what the world would be like without them. Take a look at moon-men hoaxes from history and find out how scientists may actually colonize Earth's closest neighbor.

Weaving together science and myth, history and technology, Luna is perfect for anyone who's ever imagined walking on the moon, wondered about the night sky, or been captivated by a thrilling werewolf story.
About the Author
---
DAVID AGUILAR is a naturalist, astronomer, artist, and author of eleven books on space for children. He is the former Director of Science Information for the Harvard-Smithsonian Center for Astrophysics and past director of Marketing for Ball Aerospace and Technologies Corporation. As a member of NASA's New Horizons Spacecraft team, he handled the media coverage of the Pluto flyby. He lives with his wife Astrid outside Aspen, Colorado, where he's built his own research observatory. Asteroid 1990 DA was named in his honor by the International Astronomical Union. Read more about the author at davidaguilar.org.
Praise For…
---
"A picture of our nearest cosmic neighbor, from violent origins to likely demise." -- Kirkus

"National Geographic Kids does it again with a fantastic and comprehensive look at Earth's only natural satellite. From its creation to myths and legends, to what the future holds for humans and the moon, Aguilar gives an in-depth profile of the moon's surface and descriptions of important locations explored by astronauts and satellites...VERDICT An excellent, extensive, and focused look at the moon, perfect for leisure reading or research." -- School Library Journal

"With beautiful full-color photographs, drawings, and descriptive captions, readers will learn everything they wanted to know about the moon...Readers will enjoy this text whether their interest mainly lies in the relationship between the moon and werewolves or the science behind the moon's formation." -- School Library Connection


.