Dr. E's Super Stellar Solar System: Massive Mountains! Supersize Storms! Alien Atmospheres! (Science Superheroes) (Paperback)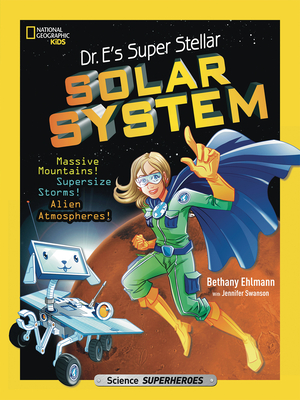 $12.99
Email or call for price.
Description
---
Take to the skies with planetary geologist Dr. E and her robot sidekick, Rover, to explore the solar system's wildest, most astronomical geology--with comic book flair!

This stellar book introduces kids to outer space through in-depth info and comic book adventure. Along the way, kids follow explorer Bethany Ehlmann, a member of the NASA Mars Rover Curiosity mission, and her lovable robo-dog, Rover, as they study and protect our amazing solar system. Dr. E's conversational and funny explanations of the solar system and planetary geology will pull kids in like gravity. The pairing of fun, graphic novel side stories with science facts makes big concepts accessible and interesting to boys and girls of all levels, from STEM science fans to reluctant readers alike.
About the Author
---
DR. BETHANY EHLMANN is a 2013 National Geographic Emerging Explorer, a participating scientist on the NASA Mars Rover Curiosity mission, a research scientist at JPL, and an assistant professor of planetary science at CalTech.
She has studied compositional analysis of planetary surfaces, environmental change on Mars, chemical and physical weathering processes on planets, habitability, rock-microbe interactions, early Earth surface environments, and space policy. Ehlmann has a Ph.D. and M.S. in Geological Sciences from Brown University, an M.S. in both Geography and Environmental Change and Management from the University of Oxford (where she was a Rhodes Scholar), and a B.A. in both Earth and Planetary Sciences and Environmental Studies from Washington University in St. Louis. Before obtaining her current position at Caltech/JPL, she was a Marie Curie Fellow at the Institut d'Astrophysique Spatiale in Paris.

Jennifer Swanson is an award-winning author and science superfan. Her books for children and young adults have been selected for the National Science Teachers Association's Best STEM Books and recommended reviews from School Librarians Workshop, Library Media Connection, and School Library Journal, among others.