Embracing Love, Vol. 1: 2-in-1 Edition (Embracing Love (2-in-1) #1) (Paperback)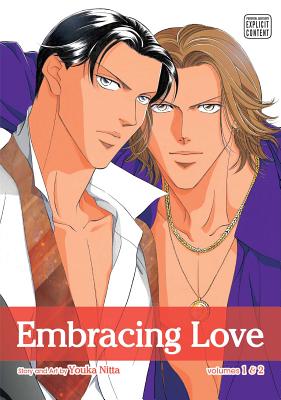 $16.99
Email or call for price.
Description
---
Deluxe 2-in-1 editions of a fan-favorite series by renowned author Youka Nitta.

Iwaki Kyousuke and Katou Yoji are two hugely popular adult film stars looking for a way out of the industry. Their chance arrives when they're both invited to audition for a new erotic film. Imagine their surprise when the director decides the only way for him to choose who will get the coveted lead role is for them to perform one of the film's love scenes on the spot—with each other! Things get even crazier when Katou decides to take drastic measures to ensure he can continue seeing Iwaki after film production wraps. How will Iwaki respond to Katou's impulsive act?
About the Author
---
Youka Nitta made her publishing debut with GROUPIE in 1995 and since then has become one of the most prolific and popular boys' love creators worldwide. Her most well-known series, Embracing Love, has been adapted into both a drama CD as well as an anime series. Born March 8th in Fukui Prefecture, she's a Pisces with a B blood type. Her hobbies include walking and going to the theater. To find out more about Youka Nitta, visit her English-language website at http://nittayouka.com.