The Legend of Zelda, Vol. 5: Oracle of Ages (Paperback)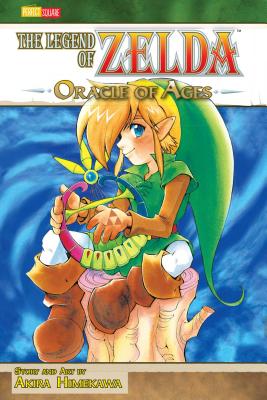 Other Books in Series
This is book number 5 in the The Legend of Zelda series.
Description
---
The manga adapation of the legendary video game series, now available in English for the first time! Become part of the Legend – The Legend of Zelda!

In the mystical land of Hyrule, three spiritual stones hold the key to the Triforce, and whoever holds them will control the world. A boy named Link sets out on a quest to deliver the Emerald, the spiritual stone of the forest, to Zelda, Princess of the land of Hyrule. The journey will be long and perilous, and Link will need all his skill and courage to defeat evil. The battle for Hyrule and the Sacred Realm has begun!

After defeating the evil General Onox in Holodrum, Link returns to Hyrule. One day, Impa, Princess Zelda's attendant, asks Link to accompany her into the forest to find Nayru, the Oracle of Ages. But Veran, the evil Sorceress of Shadows, has possessed Impa in order to deceive Link. Veran then possesses Nayru and travels back to the past to kill one of Link's ancestors so that Link will never be born! Link once again battles across time to save Hyrule--and himself!
About the Author
---
Akira Himekawa is the collaboration of two women, A. Honda and S. Nagano. Together they have created ten manga adventures featuring Link and the popular video game world of The Legend of Zelda, including Ocarina of Time, Oracle of Seasons and Four Swords. Their most recent work, The Legend of Zelda: Twilight Princess, is serialized digitally on the Manga One app in Japan.