Danza!: Amalia Hernández and El Ballet Folklórico de México (Hardcover)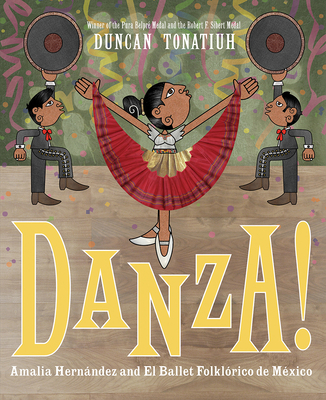 $19.99

In Our Warehouse - Expected arrival in 2-5 days
Description
---
In the picture book Danza!, award-winning author and illustrator Duncan Tonatiuh tells the story of Amalia Hernández, dancer and founder of El Ballet Folklórico de México.

Winner of the Pura Belpré Award and the Robert F. Sibert Medal

"A vivid celebration of Mexican culture, art, and life." ―School Library Journal (Starred Review)

As a child, Amalia saw a pair of dancers in the town square. The way they stomped and swayed to the rhythm of the beat inspired her. She knew one day she would become a dancer. Amalia studied ballet and modern dance under the direction of skilled teachers who had performed in world-renowned dance companies. But she never forgot the folk dance she had seen years earlier.

She began traveling through the Mexican countryside, witnessing the dances of many regions, and she used her knowledge of ballet and modern dance to adapt the traditional dances to the stage. She founded her own dance company, a group that became known as El Ballet Folklórico de México.

Using his signature illustration style, inspired by the ancient art of the Mixtecs, Tonatiuh tells the story of Amalia Hernández and the formation of one of the most famous and successful dance companies in the world.

This is a celebration of Mexican heritage, culture, and dance that will entertain young readers and their parents.

"Tonatiuh tells Hernández's story with careful attention to detail and with obvious admiration for the subject. . . . His digitized, hand-drawn illustrations are striking. They showcase, in his signature style based on Mixtec art, the beauty and grace of many different dance styles." ―Kirkus Reviews (Starred Review)

About the Author
---
Duncan Tonatiuh (toh-nah-tee-YOU) is an award-winning author-illustrator. He is both Mexican and American. He grew up in San Miguel de Allende, Mexico, and graduated from Parsons School of Design and Eugene Lang College in New York City. His artwork is inspired by pre-Columbian art. His aim is to create images and stories that honor the past but are relevant to today's people, especially children. His books include A Land of Books, Feathered Serpent and the Five Suns, and Separate Is Never Equal. He currently lives in San Miguel with his family but travels in the United States often.
Praise For…
---
**STARRED REVIEW**
"Tonatiuh tells Hernández's story with careful attention to detail and with obvious admiration for the subject... His digitized, hand-drawn illustrations are striking. They showcase, in his signature style based on Mixtec art, the beauty and grace of many different dance styles."
— Kirkus
**STARRED REVIEW**
"This beautifully designed, large-format picture book is a showcase for Tonatiuh's distinctive illustrations, drawings with digital collage elements that add colors, patterns, and textures to strong, well-delineated forms."
— Booklist
**STARRED REVIEW**
"Tonatiuh's Mixtec-inspired illustrations capture the movement and vibrancy of El Ballet Folklórico and pay homage to the artistic vision of one of the world's most beloved dancers."
— School Library Journal
"Employing his his customary brand of Mixtec-inspired collage, Tonatiuh makes expert use of photographic bits of lace, cloth, and hair to bring warmth to the dancers, who dip and turn on each spread."
— Publishers Weekly
"The book does an excellent job of chronicling Hernández's work as cultural explorer and celebrator of both pre-Columbian past and Mexican present...Tonatiuh's signature stylized figures in side view and flattened perspective are surprisingly well suited to dancing."
— Bulletin of the Center for Children's Books
"Tonatiuh's recognizable illustration style, inspired by Mixtec art and with well-chosen photo-collage elements on costumes and accessories, is particularly resonant with a subject whose own desire was to preserve and celebrate Mexican arts and culture. A beautiful look at one of Mexico's most cherished institutions."

— The Horn Book
"Danza! is a beautifully illustrated picture book celebration of Hernandez's life and of the rich history of dance in Mexico. Danza! will enthrall and inspire young readers . . ."
— Midwest Book Review
"Tonatiuh's signature Mixtec-inspired illustrations depict graceful, energetic, and colorful folklórico performances, representing traditions of celebration and community."
— International Literacy Association