Once a Runner: A Novel (Hardcover)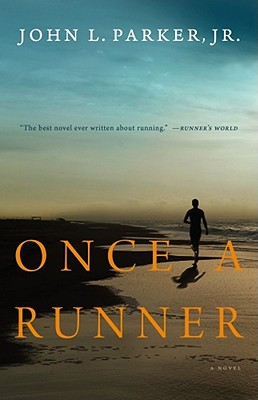 $24.00
Email or call for price.
May 2009 Indie Next List
---
"When Quenton Cassidy, Southwestern University's best mile runner gets banned from competing in the biggest track and field meet of the year, his life as a runner gets kicked up a notch with the help of Olympian friend Bruce Denton. Don't miss this fictionalized description of what running and competing is all about."
— Karen Langs, McLean & Eakin Booksellers, Petoskey, MI
Description
---
Once a Runner captures the essence of what it means to be a competitive runner; to devote your entire existence to a single-minded pursuit of excellence. It has become one of the most beloved sports novels ever written.

Originally self-published in 1978 and sold at road races out of the trunk of the author's car, the book eventually found its way into the hands of high school, college, and postgraduate athletes all over the country. Reading it became a rite of passage on many teams, and tattered copies were handed down like sacred texts from generation to generation. It ranked as the number one most sought-after out-of-print book in the United States in 2007.

Once a Runner is the story of Quenton Cassidy, a collegiate runner at fictional Southeastern University whose lifelong dream is to run a four-minute mile. He is less than a second away when the political and cultural turmoil of the Vietnam War era intrudes into the staid recesses of his school's athletic department. After he becomes involved in an athletes' protest, Cassidy is suspended from his track team.

Under the tutelage of his friend and mentor, Bruce Denton, a graduate student and former Olympic gold medalist, Cassidy gives up his scholarship, his girlfriend, and possibly his future to withdraw to a monastic retreat in the countryside and begin training for the race of his life: a head-to-head match with the greatest miler in history. This book is a rare insider's account of the incredibly intense lives of elite distance runners; an inspiring, funny, and spot-on tale of one man's quest to become a champion.
About the Author
---
John L. Parker, Jr. has written for Outside, Runner's World, and numerous other publications. A graduate of the University of Florida's College of Journalism as well as its College of Law, Parker has been a practicing attorney, a newspaper reporter and columnist, a speechwriter for then Governor Bob Graham, and editorial director of Running Times magazine. The author of Once a Runner, Again to Carthage, and Racing the Rain, he lives in Gainesville, Florida, and Bar Harbor, Maine.
Praise For…
---
"The best novel ever written about running." -- Runner's World

"Part training manual, part religious tract, part love story, and all about running, Once a Runner is so inspiring it could be banned as a performance-enhancing drug." -- Benjamin Cheever, author of Strides: Running Through History with an Unlikely Athlete

"By far the most accurate fictional portrayal of the world of the serious runner...a marvelous description of the way it really is." -- Kenny Moore, Sports Illustrated

"There is a remarkable parallel between the pacing of this novel and a well-run race." -- Ed Ayres, Running Times

"Perhaps the best novel ever written about running. There are parts of Once a Runner that are pure poetry. I enjoyed it thoroughly and have never read descriptions of what it is to run and race as accurate and compelling as Parker's." -- Tom Jordan, Track & Field News

"The best piece of running fiction around. Beg, borrow, or buy a copy, and you'll never need another motivator." -- Dave Langlais, Runner's World