State of the Union: A Thriller (Paperback)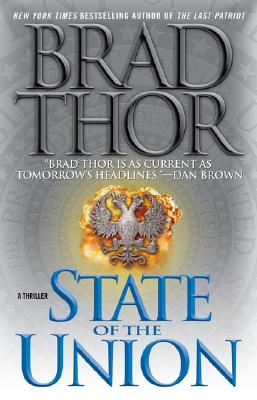 Email or call for price.
Not Available at This Time
Description
---
From the national bestselling author of The Lions of Lucerne and Path of the Assassin comes another electrifying international thriller featuring all-American hero Scot Harvath, as he plunges into the frigid heart of the Russian tundra to save the fragile state of the union.

On a cold January morning, the United States awakes to discover that an old enemy, one long believed dead and buried, has crawled out of its grave to lay siege to the world's only superpower.

With the stunning discovery that enhanced Soviet-made suitcase nukes have been secreted in America's major cities, President Jack Rutledge gathers his National Security Council to weigh the feasibility of a first strike against the Russian Federation. There's only one problem. For over two decades, the Russians have been funneling international aid money into a top secret air defense system, which has just been brought on-line and which will render any conventional attack upon their country utterly ineffective.

After exhausting all of his other options, and with Soviet sleeper agents preparing to detonate their deadly payloads across the United States, the president turns to the nation's final hope, ex-Navy SEAL and Secret Service Agent Scot Harvath.

Assigned to a covert section of the Department of Homeland Security and charged with defending the nation against all foreign aggressors by any means necessary, Harvath finds himself hand-picked by the president to unravel a brilliantly orchestrated, fiendishly timed conspiracy that has already shattered the fragile peace between the world's nations and which, if successful, will leave the United States in smoldering ruins.

With family friend and former Deputy FBI Director Gary Lawlor nowhere to be found and suspected of betraying his country, Harvath embarks on an adventure that will test the bonds of loyalty and reveal a nation's deepest secrets.
About the Author
---
Brad Thor is the #1 New York Times bestselling author of nineteen thrillers, including Spymaster, Use of Force, The Last Patriot (nominated best thriller of the year by the International Thriller Writers Association), Blowback (recognized as one of the "Top 100 Killer Thrillers of All Time" by NPR), The Athena Project, and Foreign Influence (one of Suspense Magazine's best political thrillers of the year). Visit his website at BradThor.com and follow Brad on Facebook at Facebook.com/BradThorOfficial and on Twitter @BradThor.
Praise For…
---
"Frighteningly real."
-- Ottawa Citizen



"Scot Harvath is the perfect all-American hero for the post-September 11th world."
-- Nelson DeMille