The Pride of the Peacock (Casablanca Classics) (Paperback)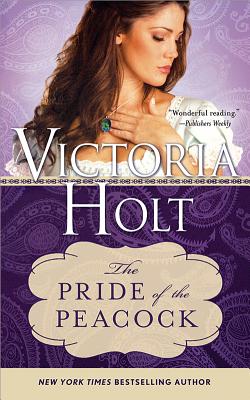 $16.99
Email or call for price.
Description
---
A young woman uncovers her family's dark secrets in this mystery and her connection to a famously cursed gemstone in this Victorian gothic thriller from an internationally bestselling author
To secure her inheritance, Jessica Clavering agrees to a marriage of convenience, but will her handsome new husband's desire for her ever surpass his obsession with a famously cursed opal?
Raised in the shadow of her family's financial ruin, Jessica has never felt as though she fit in. When her only friend, an elderly neighbor, offers her the chance at a new life, she's eager to take it. His only condition: she must marry her son, Joss.
The newlyweds inherit a fabled opal mine in Australia. It's only once they arrive on the faraway continent that Jessica starts to uncover her family's dark past and her connection to the Green Flash, an exquisite and spellbinding opal. The stone arouses a dangerous desire in anyone who sees it—even her husband.
Blending historical romance with elements of the paranormal, The Pride of the Peacock is an exhilarating tale from the Queen of Gothic Romance. Fans of Susanna Kearsley, Daphne Du Maurier, and Kate Morton will be spellbound by classic story of an overseas voyage, a cursed opal, and forbidden desire.
Other Titles from Victoria Holt
The India Fan: Drusilla's glamorous neighbors gift her a priceless family heirloom—a beautiful fans with a terrible curse
The Shivering Sands: Caroline Verlaine's sister has gone missing and no one can tell her why. The only option is to go where Roma was last seen—an estate with a deadly history.
The Time of the Hunter's Moon: According to legend, a girl will see her future husband at the time of the hunter's moon. But when the handsome stranger revealed to Cordelia Grant disappears after an all-too-brief encounter, she has to wonder: Was he merely an apparition...or something more?
What readers are saying about The Pride of the Peacock
"The heroine is adventurous, the hero is brooding, and the twists and turns of the story are unexpected, culminating in a surprise but satisfying ending."
"It's suspenseful, full of relationship tales, uplifting, and I had a hard time putting it down!"
"I couldn't put it down. The twist at the end is surprising and reminiscent of Agatha Christie's style. Definitely a classic."
"One of Holt's best books."
"I loved this book. I have read it over and over again—along with every novel ever written by Victoria Holt!"
What reviewers are saying about The Pride of the Peacock
"The mysteries drew me in and kept me guessing right up to the end..."—The Good, the Bad, and the Unread
"This is just story telling at its finest."—Romancing the Book
What everyone is saying about the Queen of Gothic Romance Victoria Holt
"Victoria Holt's writing is captivating"—Bookfoolery
"She spins history with romance and intrigue and always leaves me wanting more."
"Holt's stories are spell binding....page turners."
"I love her books! I have read all of them again and again. She is a wonderful storyteller."
"One of the supreme writers of gothic romance, a compelling storyteller whose gripping novels have thrilled millions."—RT Book Reviews
About the Author
---
Eleanor Alice Burford Hibbert, better known to readers as Victoria Holt, Philippa Carr, and Jean Plaidy, was one of the world's most beloved and enduring authors. Her career spanned five decades and she continued to write historical fiction and romantic suspense until her death in 1993.
Praise For…
---
"It was an enjoyable if not challenging or captivating read, with several gorgeous passages of descriptive prose and a character in Jessica that is cleanly voiced" — I Am Indeed

"The writing is very good, the descriptions wonderful, the characters well defined." — BookLoons.com

"Victoria Holt was one of the very best authors out there... The story is character driven and at times emotional." — Romancing the Book

"A lovely historical romance." — History and Other Thoughts

"The mysteries drew me in and kept me guessing right up to the end... " — The Good, the Bad and Unread