Her Highness, the Traitor (Paperback)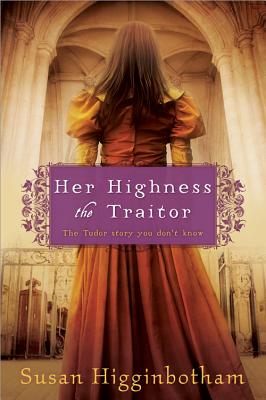 $14.99
Email or call for price.
Description
---
A daughter can be a dangerous weapon in the battle for the throne of England
Frances Grey harbored no dream of her children taking the throne. Cousin of the king, she knew the pitfalls of royalty and privilege. Better to marry them off, marry them well, perhaps to a clan like the Dudleys.
Jane Dudley knew her husband was creeping closer to the throne, but someone had to take charge, for the good of the country. She couldn't see the twisted path they all would follow.
The never–before–told story of the women behind the crowning of Jane Grey, this novel is a captivating peek at ambition gone awry, and the damage left in its wake.
Praise for Susan Higginbotham's Novels
"Susan Higginbotham transports her readers into a vividly portrayed past."—Helen Hollick, author of The Pendragon's Banner trilogy
"Susan Higginbotham draws the reader under her spell...she brings the dead to life."—Christy English, author of The Queen's Pawn, praise for The Stolen Crown
"A beautiful blending of turbulent history and deeply felt fiction...Higginbotham has given readers of historical fiction a gift to treasure."—Karen Harper, New York Times bestselling author of The Irish Princess, praise for The Queen of Last Hopes
About the Author
---
Susan Higginbotham is the author of seven historical novels, including Hanging Mary, The Stolen Crown, and The Queen of Last Hopes. The Traitor's Wife, her first novel, was the winner of ForeWord Magazine's 2005 Silver Award for historical fiction and was a Gold Medalist, Historical/Military Fiction, 2008 Independent Publisher Book Awards. She writes her own historical fiction blog, History Refreshed. Higginbotham has worked as an editor and an attorney, and lives in Maryland with her family.
Praise For…
---
"This is another winning historical fiction novel by Susan Higginbotham! I can hardly wait to see what she comes up with next!" — So Many Precious Books, So Little Time

"Susan Higginbotham is one of the best accessible historical fiction authors out there and will soon be well known for very enjoyable and well-researched novels." — Burton Book Review

"Author Susan Higginbotham's take on the tale is one of the most complete, most polished, and most well-told versions of the Jane Grey story I've ever read. Not only is Higginbothan an incredibly gifted writer and researcher, but her approach to the subject is unlike any others I've read. " — Diary of a Book Addict

"Her Highness, the Traitor is definitely a journey of a book and a heartfelt one at that." — The Musings Of Almybnenr

"Higginbotham magnificently weaves together the events leading up to the disinheritance of two royal princesses and the coronation of a young girl more to devoted to books and prayer." — Fresh Fiction

" Flawless, compelling storytelling" — Crickhollow Books

"Higginbotham has done an excellent job of wading through those myths and half-truths, presenting a balanced, well-rounded case for what might really have happened, all lightly seasoned here and there with Higginbotham's sense of humor" — At Home with a Good Book and the Cat

"In Her Highness, the Traitor, Susan Higginbotham turns the story of Jane's short life into a fascinating novel." — Shelf Awareness

"I feel that the author did a very good job of making these women their own and really getting the reader to care about them. " — The Maiden's Court

"Susan's very true to her historical detail. I never fail to come away from one of her books having immensely enjoyed her writing, her story, and most of all that I've learned more about that vast world of history out there so thank you for that Susan!" — Peeking Between the Pages

"This is my first Susan Higginbotham novel, and I look forward to more of her historical narratives." — jaffareadstoo....

"Susan Higginbotham really managed to bring history to life with Her Highness, the Traitor and I loved seeing the 'villains' of history from another perspective." — The Broke and The Bookish

"Higginbotham's idea of telling the story through the eyes of these women is a wonderful way of bringing these events and characters to life. You feel you're there with them and you cannot help but be moved by the events as they unfold." — The Tudor Book Reviews

"Overall, this was a great book with a unique story and I think any fan of historical fiction will enjoy it." — So Many Books, So Little Time

"The writing was engaging and like I said before, it was nice to see it through the eyes of these two women, who give the facts colour with their love for their husbands and children. Definitely recommended for historical fiction lovers like me!" — Between the Pages

"This is a story I would not only recommend to readers of this review but people I personally know and I plan on encouraging them to read this story. It's that good." — Long and Short Reviews

"Fans of the era will enjoy this engaging entry filled with plenty of tidbits from the period between the two Tudor ruling giants" — Genre Go Round Reviews

"Higginbotham brings the court to life, including vividly described costumes and customs, while producing a fresh view of the people closest to the top in those turbulent times. Fans of her earlier work or that of Philippa Gregory will enjoy this story about the women of position in an age ruled almost entirely by men." — Booklist

"I enjoyed this one. Definitely recommended." — Readin and Dreamin

"This novel will be published in June of 2012. Add it to your TBR list! It's a must read. " — Layered Pages

"This is the quick rise and quick fall of Jane Grey like it's never been depicted before – readers of Tudor historical fiction should download a copy before the day is much older!" — Open Letters Monthly

"Susan Higginbotham's Her Highness, the Traitor, is what great historical fiction should always be." — PaperBack Swap Blog

"Well written and engaging" — Tanzanite's Castle Full of Books

"Along with historical accuracy, a swift-moving plot and little family details that any mother would remember and treasure, such as Lady Dudley's talking parrot and Lady Grey's dismay at her daughter's surprising lack of common sense, the novel includes characterizations at which this author excels. She takes the infamous villains of history and presents them as relatable human characters.

This book at times made me smile and then cry with the tragedy. I very much recommend it." — Historical Novels Review

"Fans of the era will enjoy this engaging entry filled with plenty of tidbits from the period between the two Tudor ruling giants." — The Midwest Book Review