Love Never Dies: How to Reconnect and Make Peace with the Deceased (Paperback)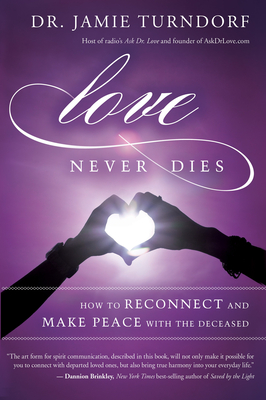 $18.99
Email or call for price.
Description
---
"Guaranteed to give immense hope," this manual on reconnecting with loved ones who have passed on "provides stunning evidence of the continuity of love and life" (Suzanne Giesemann, author of Messages of Hope)

Famed relationship therapist, author, and media personality Dr. Jamie Turndorf—known worldwide as Dr. Love—shares the amazing true story of her spiritual reconnection with her beloved, deceased husband, internationally renowned former Jesuit priest Emile Jean Pin. Discovering for herself that relationships don't end in death, Jamie recounts her remarkable experience where, through the depths of her grief after Jean's sudden passing, her husband made his continued presence—and undying love—known.

Drawing on these personal encounters, Jamie has created a groundbreaking new form of grief therapy that combines her acclaimed conflict-resolution techniques with after-death communication. The result: an unprecedented method that enables the bereaved to reconnect, resolve unfinished business, and make peace with the deceased.

Filled with dozens of examples of spirit contact and communication, this book eliminates any doubt about life after death and shows that contact is ongoing. Loved ones in spirit don't just linger briefly before going to "heaven" and disappearing from your life. Rather, heaven is a state, not a place, and your loved ones have eternity to support you and heal any issues left behind when they passed on.

Come to recognize the numerous signs from spirit that you may have been missing. Learn to trust yourself and the process that's right for you—not a shortened, artificial grief period prescribed by conventional doctors. Practice techniques for heightening your senses, expanding your awareness, and entering an open state, culminating in Jamie's method for Dialoguing with the Departed.

When connection and love live on, fear is banished and relationships can grow and heal as never before. Begin opening your mind and your heart today!
About the Author
---
Known to millions as Dr. Love, through her immensely popular website, AskDrLove.com—the web's first relationship-advice site, online since 1995—Jamie Turndorf, Ph.D., has been delighting readers and audiences for three decades with her engaging blend of professional knowledge, spicy humor, and ability to turn clinical psychobabble into easy-to-understand concepts that transform lives and heal relationships. Jamie's conflict-resolution techniques have been featured on all the major networks, including CNN (who recently dubbed her their "Resident Love Doctor"), NBC, CBS, VH1, and Fox, and on WebMD, Discovery.com, and iVillage. She's also appeared in many of the most popular national magazines, such as Cosmopolitan, Men's Health, and Glamour. In addition, she writes a column called We Can Work It Out for Psychology Today online. The Ask Dr. Love radio show can be heard in Seattle on KKNW and on WebTalkRadio.net, which is heard in 80 countries worldwide.
Praise For…
---
"When we experience loss, we need good therapy, which you're providing in Love Never Dies. Your new therapeutic techniques are amazing! You show us the way to heal our hearts and find lasting love."
—John Gray, Ph.D., #1 New York Times best-selling author of Men Are from Mars, Women Are from Venus

"Dr. Turndorf has written a remarkably moving chronicle of her own life, and uses it as a spiritually insightful guide to effectively help others. The art form for spirit communication, described in this book, will not only make it possible for you to connect with departed loved ones, but will also bring true harmony into your everyday life."
—Dannion Brinkley, New York Times best-selling author of Saved by the Light

"We have never seen anything like Dr. Turndorf's Trans-Dimensional Grief Therapy Method."
— Reid Tracy, CEO and President of Hay House Publishing

"Dr. Turndorf's eternal love story powerfully proves that our loved ones in spirit are waiting for us to reconnect with them! Read this amazing book and discover her new dialoguing technique, which enables you to reconnect and turn grief into peace and joy."
—Mira Kelley, best-selling author of Beyond Past Lives

"Dr. Turndorf's extraordinary memoir/self-help book provides astonishing proof that we don't die and that we are meant to reconnect and stay connected to loved ones in spirit. Read this book, learn her powerful new method for reconnecting and making peace with the deceased, and you will transform your grief to joy."
—Fr. Richard Rohr, Founder of the Center for Action and Contemplation (CAC), and best-selling author of Falling Upward

"I found the book very helpful in guiding people to learn how to tune in to spirit messages, and particularly liked Dr. Turndorf's guidance through meditations. In Parts 2 and 3, Dr. Turndorf covered so many of the ways that spirits convey messages, and this book will be a great help for people trying to get in touch with their loved ones.
"Part 1 was her story of losing the love of her life. Reading about the pain and agony she experienced and SO MANY people experience will be healing to know that others experience the same emotions after the passing of a loved one. I think the first part could be a book on its own merit because it is so beneficial to people dealing with the same intensity of grief.
"As a scientist myself, I was glad to read that she didn't focus on a religion. As a medium, I have come to know that 'god' is not of a religion, but is the consciousness of all living things. Like Dr. Turndorf I've learned that all people are equal and all creatures part of all existence (and with 'souls.').
"I particularly enjoyed reading how she used her talent/mediumship to help people overcome their grief. Readers will get a lot out of this book and know that their loved ones are always connected."
—Rob Gutro, Author, Medium, NASA Scientist

"I could not put this book down!!! It is so gripping from the first few words, and beautifully written. Dr. Turndorf's courageous story of her reunion with her beloved husband after his death and the heartfelt stories of others serve to validate what many may have privately experienced but discounted as just a by-product of grief and loss and not really 'REAL.' The book's simple and powerful techniques provide essential tools for connecting to loved ones in spirit, and will allow scientists to amass new data from laypeople, other than mediums. Your book will make a profound contribution to the now-significant scientific data already collected in laboratories around the world studying survival of individual consciousness after death, while adding richly to our own sense of love and peace. Thank you for the Gift!"
—Linda G. Russek, Ph.D., Former Co-founder and Co-director of the Human Energy Systems Laboratory, University of Arizona, Co-author of The Living Energy Universe

"This is the most beautiful true love story that I have ever read. The depth of the author's love for her husband and her terrible grief at his death, and then her triumph as she learned to continue her relationship with him even after his death, are all palpable. I lived it with her, and her story has stayed in my mind. For me, though, the reason to read this book is the author's wisdom in teaching her readers how to heal rifts across the death boundary. As one who has done extensive afterlife research, I can attest to the importance of post-death healing of relationships to both our dead loved ones and ourselves! Yet few people know how essential this healing is, and fewer still know how to begin it. As a prominent relationship counselor, Dr. Turndorf tackles this essential area, and she does it well. Hers is a wonderful book."
—Roberta Grimes, Author of The Fun of Dying: Find Out What Really Happens Next and The Fun of Staying in Touch

"Exceptionally well written from beginning to end, Love Never Dies: How to Reconnect and Make Peace with the Deceased is as informed and informative as it is inspired and inspiring. Especially recommended to the attention of anyone who is suffering from the loss of a loved one."
—Margaret Lane, Midwest Book Review

"Love Never Dies is an astonishing and refreshing story of survival of consciousness. She clearly shows the many ways spirit can communicate through us and with animals and even objects. I could hardly put the book down, and I have read many of these types of books. This is a great read for those who have lost a loved one and are looking for answers to the ways spirit makes contact with us, and also how we can contact spirit to make peace. I highly recommend this book."
—Dave Campbell, Certified Windbridge Research Medium (WCRM)

"Love Never Dies is guaranteed to give immense hope to those grieving the perceived loss of a loved one. Dr. Jamie Turndorf, together with her husband, Jean, now in spirit, provide stunning evidence of the continuity of love and life, along with the tools to help anyone connect with those in the unseen world."
—Suzanne Giesemann, Author of Messages of Hope

"When I held this 248-page spiritual giant in my hands, even before I started turning the pages I knew I had found a special guide that would help me through one of the hardest journeys I have taken. To love so deeply and completely and then to have the person removed from my physical life is hard enough, but then to find a way to stay connected with them is even more frustrating.
"So it was totally heaven-sent when I was asked to review this gentle messenger that helped me to stay connected, to recognize the connection, and to even validate the connection. I also loved the way the author shared on such a deep and personal level it helped me to not feel alone and gave me courage to bypass my mind. I would recommend this sweet giant to anyone who feels the loss of a loved one. Thanks so much Jamie for the awesome blueprint."
—Riki Frahmann, Chief Reviewer for the ezine Mystic Living Today

"In her book Love Never Dies: How to Reconnect and Make Peace with the Deceased, Turndorf teaches a method for dialoguing with the departed which holds tremendous healing potential for everyone who has lost a loved one. Turndorf is passionate in her certainty that we can actually communicate with those we've lost. Since reading Love Never Dies (which describes the dialogue process in great detail) I've used Turndorf's technique and it has opened life-changing doors for me. It's a powerful process, and I encourage everyone who feels ready to try it."
—Ken Page LCSW, from "A Life-Changing Exercise for Anyone Who Has Lost a Loved One" published in Psychology Today

"I just finished reading Dr. Turndorf's most recent book, Love Never Dies, and I highly recommend it for everyone who wants to connect with a loved one who has passed on to the Spirit Realm. This book tells the heartfelt story of the author's tragic loss of her husband and his subsequent messages to her from beyond the veil, and it outlines the steps we should take to communicate with the spirits of the people we loved on Earth."
—Garnet Schulhauser, Author of Dancing on a Stampand Dancing Forever with Spirit

"As a colleague of both Jamie and Jean, I have been blessed with firsthand witness to their devotion and mutual love, in life and now through death. In her eloquently written new book, Dr. Turndorf has made their everlasting love accessible to all. Just as the uniqueness of their emotional connection radiated to me, it will radiate to you, the reader, in this groundbreaking work that will guide you to reestablish your relationships with loved ones in spirit... and even make peace, if needed."
—Dr. Robert S. Pepper, Author of Emotional Incest in Group Psychotherapy