Borough Market: The Knowledge: The ultimate guide to shopping and cooking (Hardcover)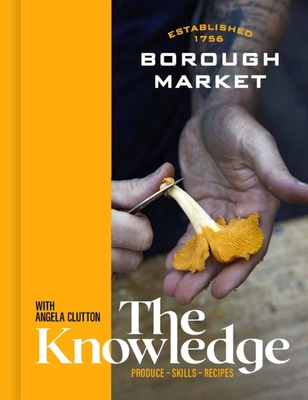 $36.99
Email or call for price.
Description
---
SHORTLISTED FOR THE GENERAL COOKBOOK AWARD AT THE GUILD OF FOOD WRITERS AWARDS 2023

Borough Market: The Knowledge provides stories, skills and expert advice from the market's traders, plus over 80 exciting recipes from award-winning food writer Angela Clutton that will help you make the most of their exceptional produce. With stunning atmospheric photography, this is the definitive guide to shopping and cooking for every kitchen.

Find intriguing in-depth features and unmissable Q&As with traders, along with visual step-by-step guides to preparing ingredients and lists of interesting seasonal produce. Moving through meat, fish, vegetables, fruit, dairy, bakery and store-cupboard ingredients, each chapter shares a collection of tantalising recipes that will teach you how to make the most of your produce, inspired by the incredible seasonal offerings from Borough Market traders.

Recipes include Fishmonger's pie with fish crackling; Baked gammon with Market preserve glaze; Parsnip gnocchi and smoked garlic butter; Walnut and pomegranate baby aubergines with saffron quinoa; Brown bread Victoria sponge with orange and saffron curd; Chocolate olive oil cake with figs and hazelnuts.

Come away feeling confident and excited to use your newfound understanding of ingredients, armed with the market traders' unrivalled expertise and delightful seasonal recipes.

'Borough Market: The Knowledge is a treasure trove of culinary wisdom and inspiration that captures on paper the magic and the bustle of Borough Market. Its pages are brimming with exquisite produce, recipes, stories and practical tips that will transform the way you shop and cook for the better. This is a book that makes me long to cook (and to eat!).'
- Skye McAlpine, author and creator of the blog From My Dining Table
About the Author
---
Angela Clutton is a cook, presenter and award-winning food-writer.

Her debut book, The Vinegar Cupboard, won the Jane Grigson Trust Award, was shortlisted for the André Simon Food and Drink Awards; won two awards at the Guild of Food Writers Awards; and won 'Debut Cookery Book' at the Fortnum & Mason Food and Drink Awards.


Angela has been the Co-director of the British Library Food Season since 2020, curating and presenting talks and events across food issues, culture and writing. She has written for a wide range of national publications and broadcast work includes the Channel 5 'Inside...' series.


Angela's long-standing relationship with Borough Market spans writing features, developing recipes, and live cooking demonstrations. She presents the Market's Borough Talks podcast series, and is host of the Borough Market Cookbook Club.
Praise For…
---
Borough Market: The Knowledge is a treasure trove of culinary wisdom and inspiration that captures on paper the magic and the bustle of Borough Market. Its pages are brimming with exquisite produce, recipes, stories and practical tips that will transform the way you shop and cook for the better. This is a book that makes me long to cook (and to eat!).—Skye McAlpine, author and creator of the blog From My Dining Table

Borough Market: The Knowledge does exactly what it says on the tin. Delving into the unique expertise of Borough Market's traders, this book is an encyclopedia and a celebration of the food, people and energy of the market. It's the ultimate preamble for cooking!—Yotam Ottolenghi

This is for anyone who wants to get closer to cooking, to seizing the independence and happiness that preparing your own food gives you. It is a love letter to great quality ingredients and the magic things you can make with them.—Thomasina Miers

Angela Clutton's wonderful writing lets Borough Market's beautiful produce and producers shine. Everything Angela puts on the page, we want to eat.—Itamar Srulovich

Such a beautiful insight into one of my favourite London Markets. Insightful, knowledgeable and such a great peek into traders, produce and wonderful people that produce and sell amazing ingredients. If you love food and produce then this is a must have book on your shelf.—Bettina Bordi

What a joy to get to know the traders of Borough Market, to hear from them the best ways to handle and use their produce, and most of all, to have Angela Clutton's exquisite recipes to inspire you to cook! What a joy!—Claudia Roden

What an important, fascinating book, not just for those of us that know and love Borough, but for everyone that frequents their local market. A thorough guide in how to utilise the produce available to us, with insight and beautiful sounding recipes.—Georgina Hayden

This will make the perfect gift to yourself as well as any friends across the world who have longed to visit London's famous foodie market themselves. I love that we can learn from the traders themselves - their skills, dedication, company, banter and spirit make the market the success it is. Angela's wizardry and food knowledge, friendliness and cheer add even more magic to this book. I've been shopping and eating at Borough Market since I discovered it at my first job out of school, working down Bermondsey Street. It's a London must do and this book is a must have. Congrats to team BM!—Melissa Hemsley

The wonderful thing about this book is it connects the recipes to the experts at Borough Market. Tucked between pages full of delicious recipes are valuable insights gathered from the most passionate producers. From practical tips on how to prepare fresh crab or fillet round fish to making sense of why seasonality matters - Borough MarketThe Knowledge is essential reading for anyone who cares about good food.—Ravinder Bhogal

This book will improve your cooking way beyond any regular cookbook might. Chefs and food writers love to tell us 'eaters' that we should buy better food, but they rarely tell us what makes food better! Angela does exactly this, in the most sincere and informative way, inspiring our inner cooks to adventure into the market and cook great food.—Tom Hunt

An exciting new release for all foodies out there!—Pick Me Up!

This compendium of tips and insight allows stallholders from every part of London's famous market - butchers, greengrocers, cheesemongers - to share their wisdom.—hotdinner.com's 'The best new cookbooks of 2022'

Few places are as synonymous with extraordinary produce as Borough Market. One of the oldest food markets in London - where the traders are as famous as their artisan ingredients - it's long been a draw for foodies and chefs alike. And no one has the inside track quite like food writer Angela Clutton. This book does exactly what it says on the tin, bringing together the knowledge of the market's expert traders to produce over 80 delicious recipes. It's a real love letter to the market.—Ianthe Butt, Hush