Serafina and the Black Cloak: The Graphic Novel (Hardcover)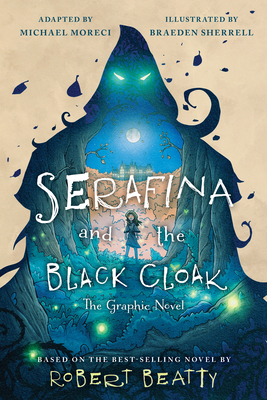 $21.99

In Our Warehouse - Expected arrival in 2-5 days
Description
---
Robert Beatty's best-selling gothic fantasy about an unforgettable heroine is now a mesmerizing graphic novel with rich, atmospheric illustrations."The story drips with suspense, wrapping readers into the narrative just as easily as the man in the black cloak binds his young victims." —School Library Journal
"
Never go into the deep parts of the forest, for there are many dangers there, and they will ensnare your soul."
Serafina has never had a reason to disobey her pa and venture beyond the grounds of Biltmore Estate.There's plenty to explore in her grand home, although she must take care to never be seen. None of the rich folk upstairs know that Serafina exists; she and her pa, the estate's maintenance man, have secretly lived in the basement for as long as Serafina can remember.
But when children at the estate start disappearing, only Serafina knows who the culprit is:a terrifying man in a black cloak who stalks Biltmore's corridors at night. Following her own harrowing escape, Serafina risks everything by joining forces with Braeden Vanderbilt, the young nephew of Biltmore's owners. Braeden and Serafina must uncover the Man in the Black Cloak's true identity…before all of the children vanish one by one.
Readers who enjoy history and mystery and like their thrills and chills in visual form will delight in this graphic novel adaptation of a bestseller.
Read the entire
New York Times
Best-selling series!
Serafina and the Black Cloak (book 1)
Serafina and the Twisted Staff (book 2)
Serafina and the Splintered Heart (book 3)
Serafina and the Seven Stars (book 4)
About the Author
---
Robert Beatty (he/him) is the #1 New York Times best-selling author of the Serafina series and the Willa of the Wood series published by Disney Hyperion. Loved by young readers and adults alike, the Serafina and Willa books are being taught in over a thousand classrooms nationwide, and have been translated into over 22 languages. Robert lives in the Blue Ridge Mountains of Asheville, North Carolina, with his wife and three daughters.

Michael Moreci (he/him) is a screenwriter and best-selling comics author. He has written for many established universes (Star Wars, Archie, Stranger Things), and he adapted three of Eoin Colfer's Artemis Fowl novels into graphic novels. Michael lives outside Chicago with his wife and kids. Follow him on Twitter @MichaelMoreci.

Braeden Sherrell (he/him) has a BFA in Illustration from the Pacific Northwest College of Art. In his work he aims to "portray the beauty, adventure, and color that life brings within fantasy and sci-fi." He lives in Portland, Oregon. Follow him on Instagram and Twitter @BraedenSherrell.
Praise For…
---
In this graphic-novel version of Beatty's 2015 fantasy, mystery and magic place a spotlight on a feral bookworm who won't back down. Twelve-year-old Serafina lives with her father in the basement of the Biltmore Estate in 1899 Asheville, North Carolina. She is the unofficial Chief Rat Catcher by night and is otherwise hidden from the world. When a mysterious cloaked figure kidnaps a girl at the Biltmore, Serafina joins forces with young Braeden Vanderbilt, Mr. Vanderbilt's nephew, to uncover the assailant's identity and find the girl, along with other missing children. A scrappy fighter and resourceful sleuth, Serafina pieces together clues and observations—about both the strange figure and herself—while also becoming more social in the upper halls of the Biltmore. The artwork makes effective use of lighting and color to bring to life the shadowy basement, glowing upper manor floors, and sepia-toned flashbacks. The surrounding forest is a character unto itself, alternately inviting or threatening depending on the weather. However, the narration dominates many pages, leading to an abundance of telling over showing. Indeed, while the titular black cloak threatens to spirit Serafina and Braeden away, the black boxes containing the book's narration are far more constricting, cluttering the page and distracting from the visuals. Serafina, Braeden, and most other characters present White. A graphic-novel adaptation that could afford to lean more on its graphics. (Graphic fiction. 9-12)- Kirkus (Mar 1, 2023)

Gr 4-6–In this coming-of-age story steeped in history and sprinkled with fantasy, adapted from the novel, readers get a chance to visually enjoy brave Serafina's world. Serafina, the Chief Rat Catcher of the Biltmore Estate, lives with Pa, hidden in the shadows of the estate's basement—until one day, Sera witnesses a sinister abduction at the hands of the man in the black cloak. Serafina is determined to put her rat-catching skills to use to find the unfortunate young girl and the other children who have also gone missing. Along the way, she befriends the young master of the house and discovers who she really is after years of feeling lost and alone. Bold, vibrant illustrations succeed in creating a rich atmosphere that envelopes readers in mystery and emotion. Less is more in this work, as a limited palette and effectively sparse background details focus on the action that drives the story forward. However, a lack of transitions and context does create some jarring moments as readers are hurtled through the story. Main characters cue as white. VERDICT Masterful illustrations are let down by disjointed text. Still, it's a fun, quick read. Purchase where the series is popular and readers are hungry for action-packed reads.–Maryjean Riou- SLJ (Mar 1, 2023)