How Does the Show Go On The Frozen Edition: An Introduction to the Theater (Disney Theatrical Souvenir Book, A) (Hardcover)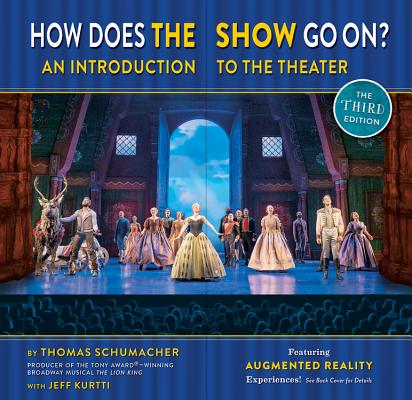 $22.99
Email or call for price.
Description
---
Filled with detailed explanations, captivating illustrations, and entertaining trivia, this clearly written, lively, and uniquely designed book offers a comprehensive introduction to the world of the theater from the box office to backstage, and beyond.
Readers enter via the front door, where the people and activities of the "front of house" can be examined. And then it's on to the behind-the-scenes magic of the "back of house" is revealed.Using the successful array of Disney's shows as examples, readers encounter the people, places, occupations, and equipment of the theater world, and have the opportunity to investigate them all. From the box office and the usher staff to the dressing rooms and the backstage doorman, the reader may wander at will within this one-of-a-kind world, discovering the wonders of theater all along the way.
Searching for that perfect gift for the Broadway fan in your life? Explore more from Disney Editions:
The Lion King: Pride Rock on Broadway
The Lion King: Twenty Years on Broadway and Around the World
My Pride: Mastering Life's Daily Performance from Broadway's Record-Breaking Lion King
Disney Aladdin: A Whole New World - The Road to Broadway and Beyond
Peter and the Starcatcher: Acting Edition
About the Author
---
Thomas Schumacher is president and producer of Disney Theatrical Group, where he oversees the development, creation, and execution of all Disney live entertainment around the globe, including Broadway, touring, and licensed productions. His Broadway, West End, touring, and international production credits include Beauty and the Beast, The Lion King, The Hunchback of Notre Dame, Elton John and Tim Rice's Aida, Tarzan, Mary Poppins, The Little Mermaid,Newsies, Aladdin, and Frozen, along with several new projects currently in development.


Praise For…
---
". . . gives readers the opportunity to meet the cast of characters who work onstage and behind the scenes to deliver unforgettable performances, and explore the inner workings of the theater building itself. Filled with artifacts you can pull out and hold in your hand, How Does the Show Go On? is a totally unique guide to what goes on behind the curtain."—Broadway World

". . . budding legiters can turn to How Does the Show Go On?, a pedigreed, kid-friendly book about life behind the footlights. Published by Disney Editions and written by Thomas Schumacher, head of Disney Theatrical Prods., with Jeff Kurtti, the tome unsurprisingly uses Mouse tuners like The Lion King and Mary Poppins to demonstrate everything from backstage rituals to what producers do. However, the book is more than a hardcover ad. Along with 128 pages of information, it includes elaborate features—like a pull-out chart of a Lion King actor in various stages of makeup—meant to allure young-adult readers."—Variety

"A MOST satisfying book, packed with big, glossy photos; perfect for passing around on the sofa when company is in town!"—<strong><em>The Wall Street Journal</em></strong>

"An eye-popping treasury! A whiz-bang introduction to the inner workings of the theater!"—<strong><em>The New York Times</em></strong>

"Don't be surprised if it becomes required reading for students everywhere. It's a journey through Disney's groundbreaking Broadway shows, a love letter to theater, and one man's passion for the arts."—<strong><em>Good Morning America</em></strong>

"Neat-O! This book is gee-whiz satisfying. The wonderful world of Disney comes alive!"—<strong><em>Newsday</em></strong>

"The third edition of the book from Disney Theatrical Group's president provides fresh insights into what goes on behind the curtain. . . . Offering a behind-the-scenes glimpse at what goes on in every aspect of a Broadway show, How Does the Show Go On? introduces theatre fans to the people, places, occupations, and equipment of the theater world. Using detailed explanations, drawings, and fun facts, the book takes readers on a journey through the St. James Theatre, where Frozen currently resides on Broadway."—<strong><em>Playbill</em></strong>

"This book is incredible!"
—<strong>Kelly Ripa, <em>LIVE with Kelly and Ryan</em></strong>