Houdini: The Handcuff King (The Center for Cartoon Studies Presents) (Paperback)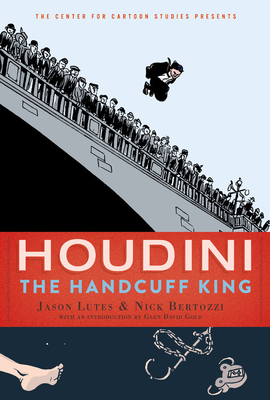 $12.99
Email or call for price.
Description
---
"I have escaped out of more handcuffs, manacles, and leg shackles than any other human being living."  Harry Houdini mesmerized a generation of Americans when he was alive, and continues to do so over ninety years since his death. This is a snapshot of The Handcuff King's life, centering on one of his most famous feats. As Houdini prepares for a death-defying leap into the icy Charles River in Boston, biographer Jason Lutes and artist Nick Bertozzi reveal Houdini's life and influence: from the antisemitism Houdini fought all his life, to the adulation of the American public from his hounding by the press, to his loving relationship with his wife Bess from his egoism to his insecurity from his public persona--to the secret behind his most amazing trick! And it's all in graphic form, so it's fresh, original, and unlike anything previously published about this most fascinating of American showmen.
About the Author
---
Jason Lutes has been an admirer of Houdini for most of his adult life, and his celebrated graphic novel for adults, Jar of Fools, also pays homage to the Handcuff King. His most recent book is Berlin. Jason lives in Vermont with his partner and two children, where he teaches comics at the Center for Cartoon Studies.

Nick Bertozzi is an award-winning cartoonist. Some of his most notable works include The Salon, Lewis &amp Clark, Persimmon Cup, the New York Times best-selling Shackleton: Antarctic Odyssey, and the New York Times best-selling Jerusalem: A Family Portrait (written by Boaz Yakin). He has received the Ignatz Award and multiple Harvey Awards, and has taught cartooning at the School of Visual Arts for 14 years. Nick lives in Queens, NY with his wife and daughters. Visit him online at nickbertozzi.com.

Praise For…
---
2008 YALSA Great Graphic Novel for Teens
2008 Booklist Top Ten Graphic Novel for Youth
* "Bertozzi's illustrations are simply spectacular."—
Kirkus Reviews (starred review)
* "Avoiding overt, showy tricks themselves, Lutes and Bertozzi use clean, simple storytelling and crisp, clear black-and-white art to create not only a portrait of the man but also that sense of suspense and anticipation Houdini generated in his performances."—
Booklist (starred review)
"Lutes and Bertozzi successfully offer a tiny snapshot as a way into a very large life."—
Publishers Weekly