The Worrysaurus (Hardcover)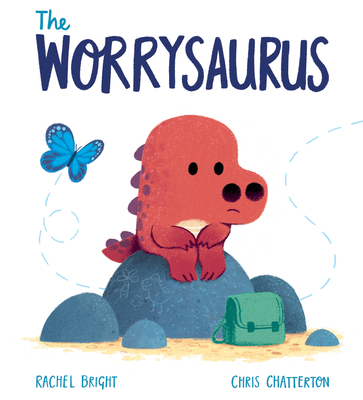 Description
---
A modern Wemberly Worried-featuring dinosaurs!-for today's young readers, with reassuring, lighthearted text and charming illustrations sure to calm the anxious butterflies in any child's tummy.
It's a beautiful day and Worrysaurus has planned a special picnic. But it isn't long before a small butterfly of worry starts fluttering in his tummy...
What if he hasn't brought enough to eat?
What if he gets lost in the jungle?
What if it rains?!
With a little help from his mom, Worrysaurus finds a way to soothe the anxious butterflies, chase his fears away, and find peace and happiness in the moment at hand.
Discover the perfect book to help every little anxious Worrysaurus let go of their fears, and feel happy in the moment at hand! The Worrysaurus strikes just the right balance of positive, lighthearted, and kid-friendly, with reassuring, rhyming text from Rachel Bright, the bestselling author of The Lion Inside and Love Monster, and charming illustrations from Chris Chatterton. Perfect for any reader who might feel the flutter of an anxious butterfly in their tummy, The Worrysaurus is sure to become a storytime favorite
About the Author
---
Chris Chatterton is an illustrator and animator from County Durham, England in the UK. He has a background in graphic design and corporate/commercial animation. His passion for illustration has led him to pursue a career as an artist.
RACHEL BRIGHT is the author of Side by Side and the Love Monster series. She is also the creator of a bestselling card and gift line, the brightside. She lives on a farm by the sea in England with her family and all manner of animals. For more information, go to lookonthebrightside.co.uk.
Praise For…
---
Praise for The Worrysaurus:
"This sweet title will help little human worrysauruses feel as though they are not alone, and it also offers coping tools for when fear and doubt start to take over... A welcome addition to the emotional-literacy shelf." -- Kirkus Reviews
Praise for The Worrysaurus:
"This sweet title will help little human worrysauruses feel as though they are not alone, and it also offers coping tools for when fear and doubt start to take over... A welcome addition to the emotional-literacy shelf." -- Kirkus Reviews