The Freddy Files: Updated Edition: An AFK Book (Five Nights At Freddy's) (Paperback)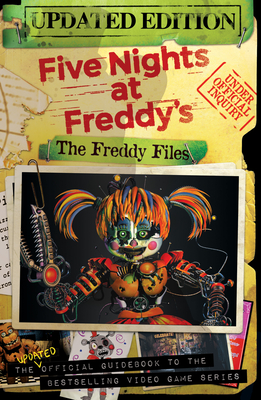 $9.99
Email or call for price.
Description
---
The bestselling Freddy Files is back, now updated with 64 pages of new content!The bestselling, official guidebook to Five Nights at Freddy's is back, now updated and including 64 pages of new content exploring Freddy Fazbear's Pizzeria Simulator and Ultimate Custom Night!In this official guidebook to Five Night at Freddy's, fans and gamers alike can immerse themselves in the series' mythology, gameplay, and secrets as we unwind the twisted mysteries hidden at the heart of Freddy Fazbear's Pizza. Delving into each game, players can map the animatronics' paths, learn how timed elements of the games work, and discover how to trigger unique events. Special sections throughout highlight Freddy's fans' most talked-about theories, from the identities of the "Bite of '83 and '87" victims to the history of Henry and William Afton to the recurring hallucinations of "it's me." All the evidence, along with every detail of the games, books, and more, is laid out for fans to explore in this one-of-a-kind guide to the warped world of Five Nights at Freddy's.
About the Author
---
Scott Cawthon is the author of the bestselling video game series Five Nights at Freddy's, and while he is a game designer by trade, he is first and foremost a storyteller at heart. He is a graduate of The Art Institute of Houston and lives in Texas with his family.