Fly Guy Presents: Monster Trucks (Scholastic Reader, Level 2) (Paperback)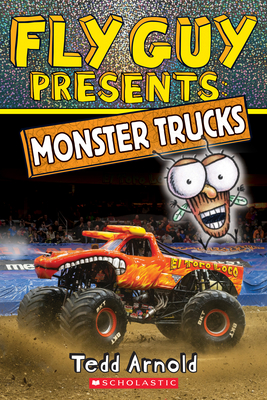 $3.99
Email or call for price.
Description
---
Buzz introduces Fly Guy to one of the coolest vehicles around: monster trucks!Buzz and Fly Guy learn all about monster truck technology, tricks, events, and safety. These "monsterzzzz" are nothing to be scared of!Award-winning author-illustrator Tedd Arnold brings nonfiction to life for beginning readers in the next book in the kid-favorite Fly Guy Presents series. There are humorous illustrations and engaging photographs throughout. And the front cover features eye-catching holographic foil!
About the Author
---
Tedd Arnold is the bestselling author and illustrator of the Fly Guy (Zig Zag et Zazie) series, Green Wilma, Parts, and other popular picture books. He is also the illustrator of Detective Blue. He has received Theodor Seuss Geisel Honors for Hi! Fly Guy (Salut Zig Zag!) and I Spy Fly Guy! (Où es-tu Zig Zag?). Tedd lives with his wife, Carol, in Florida.
Praise For…
---
Praise for Fly Guy Presents: Castles:
"This nonfiction series entry with its holographic foil cover is fun and informative for Arnold fans." -- Booklist
Praise for Fly Guy Presents: Weather:
"The humor and fun will spark curiosity in students needing a bit more jazz in their nonfiction . . . A worthy introduction to weather for lower elementary students." -- School Library Journal
Praise for Fly Guy Presents: Bats:
"Sure to fly off library shelves." -- School Library Journal
Praise for Fly Guy Presents: Sharks:
"A first-rate sharkfest." -- Kirkus Reviews
Praise for Fly Guy Presents: Castles:
"This nonfiction series entry with its holographic foil cover is fun and informative for Arnold fans." --
Booklist
Praise for Fly Guy Presents: Weather:
"The humor and fun will spark curiosity in students needing a bit more jazz in their nonfiction . . . A worthy introduction to weather for lower elementary students." --
School Library Journal
Praise for Fly Guy Presents: Bats:
"Sure to fly off library shelves." --
School Library Journal
Praise for Fly Guy Presents: Sharks:
"A first-rate sharkfest." --
Kirkus Reviews