Let's Play, Crabby!: An Acorn Book (A Crabby Book #2) (Paperback)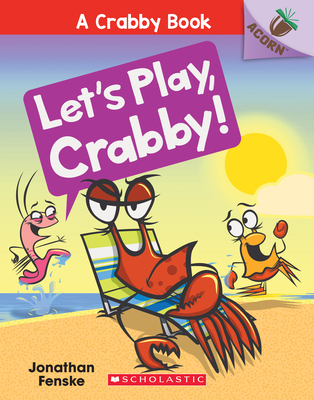 Other Books in Series
This is book number 2 in the A Crabby Book series.
Description
---
The second book in Geisel Award Honoree Jonathan Fenske's hilarious underwater early reader series!Pick a book. Grow a Reader!This series is part of Scholastic's early reader line, Acorn, aimed at children who are learning to read. With easy-to-read text, a short-story format, plenty of humor, and full-color artwork on every page, these books will boost reading confidence and fluency. Acorn books plant a love of reading and help readers grow! Plankton wants Crabby to play a game. Plankton tries to get Crabby to play Simon Says, Tag, and Hide-and-Seek. But Crabby does NOT want to play with Plankton. Will Plankton give up? Or will Crabby finally play along? With comic speech bubbles and full-color artwork throughout, Geisel Award Honoree Jonathan Fenske's early reader series is sure to be a hit with new readers!
About the Author
---
Jonathan Fenske is the author and illustrator of the leveled readers Woodward and McTwee, Love Is in the Air, Guppy Up!, A Pig, a Fox, and a Box, which was a 2016 Geisel Honor book, and the A Crabby Book series. He is also the author of several picture books, including Barnacle Is Bored and its follow-up, Plankton Is Pushy. Jonathan lives in South Carolina with his family.
Praise For…
---
Praise for Let's Play, Crabby! (A Crabby Book #2):"Appropriately repetitive dialogue-only text, uncluttered backgrounds, and a small trim size help new readers make the transition to longer books. Throughout, Crabby and Plankton remain true to their personas. Crabby is grumpy but polite-not actively mean. The persistent Plankton, though increasingly exasperated, is ultimately patient. Neither abandons civility and courtesy just because they have different interests or styles. Crabby and Plankton's attempts at understanding and friendship provide good examples for beginning readers." --- Kirkus ReviewsPraise for Hello, Crabby! (A Crabby Book #1):"Crabby's persistent grumpiness and the patient plankton's exasperation are shown clearly in their expressive eyes and mouths as well as their dialogue. Pages broken into colorful panels and color-coded speech bubbles help beginning readers focus on the words...So silly it's unlikely to make new readers crabby." -- Kirkus ReviewsPraise for Barnacle Is Bored:"This playful book addresses the universal problem of feeling bored while everyone else appears to be having a great time ... Barnacle's round eyes and expressive eyebrows create endearing and silly expressions." -- School Library Journal"In a mischievous skit of a story, Geisel Award Honoree Fenske (A Pig, a Fox, and a Box) introduces a dyspeptic barnacle for whom the sea grass is always greener-until it isn't ... From narration that consists entirely of Barnacle's mopey monologue to a dockside environment defined by creamy blue water, a bit of sand, and a couple planks, Fenske keeps it simple, deploying his closing jokes with confident comic timing." -- Publishers Weekly"What better protagonist could there be to illustrate boredom than a sedentary barnacle? ... This tale where 'the seaweed is always greener' is an entertaining antidote to boredom." -- Booklist

Praise for Let's Play, Crabby! (A Crabby Book #2):"Appropriately repetitive dialogue-only text, uncluttered backgrounds, and a small trim size help new readers make the transition to longer books. Throughout, Crabby and Plankton remain true to their personas. Crabby is grumpy but polite-not actively mean. The persistent Plankton, though increasingly exasperated, is ultimately patient. Neither abandons civility and courtesy just because they have different interests or styles. Crabby and Plankton's attempts at understanding and friendship provide good examples for beginning readers." --- Kirkus ReviewsPraise for Hello, Crabby! (A Crabby Book #1):"Crabby's persistent grumpiness and the patient plankton's exasperation are shown clearly in their expressive eyes and mouths as well as their dialogue. Pages broken into colorful panels and color-coded speech bubbles help beginning readers focus on the words...So silly it's unlikely to make new readers crabby." -- Kirkus ReviewsPraise for Barnacle Is Bored:"This playful book addresses the universal problem of feeling bored while everyone else appears to be having a great time ... Barnacle's round eyes and expressive eyebrows create endearing and silly expressions." -- School Library Journal"In a mischievous skit of a story, Geisel Award Honoree Fenske (A Pig, a Fox, and a Box) introduces a dyspeptic barnacle for whom the sea grass is always greener-until it isn't ... From narration that consists entirely of Barnacle's mopey monologue to a dockside environment defined by creamy blue water, a bit of sand, and a couple planks, Fenske keeps it simple, deploying his closing jokes with confident comic timing." -- Publishers Weekly"What better protagonist could there be to illustrate boredom than a sedentary barnacle? ... This tale where 'the seaweed is always greener' is an entertaining antidote to boredom." -- Booklist