The Lotterys More or Less (Hardcover)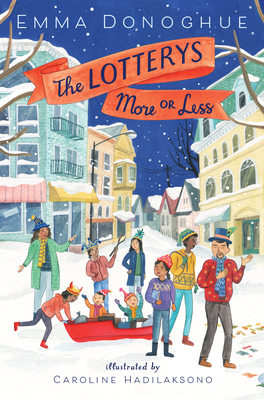 Email or call for price.
Not Available at This Time
Description
---
The eagerly awaited sequel to The Lotterys Plus One!Sumac Lottery is the keeper of her family's traditions -- from Pow Wow to Holi, Carnival to Hogmanay, Sumac's on guard to make sure that no Lottery celebration gets forgotten. But this winter all Sumac's seasonal plans go awry when a Brazilian visitor overstays his welcome. A terrible ice storm grounds all flights, so one of her dads and her favorite brother can't make it home from India. And then the power starts going out across the city...Can Sumac hang on to the spirit of the season, even if nothing is going like a Lottery holiday should?
About the Author
---
Emma Donoghue is the author of the international bestseller and Man Booker Prize finalist Room, as well as several other novels, including Kissing the Witch, which was shortlisted for the Tiptree Award. Born in Ireland, she now lives in Canada with her partner and their two children.

Caroline Hadilaksono was born in Indonesia, moved to Los Angeles when she was twelve, and while she currently lives in New York, she will always consider herself a California gal. She is equal parts designer and illustrator, and one of the original cofounders of The League of Moveable Type. These days she's busy making pictures, books, and educational science apps. She dreams of traveling around the world and one day living in a tree house. Find her online at hadilaksono.com.
Praise For…
---
Praise for The Lotterys Plus OneA Kirkus Best Book of the YearA Publishers Weekly Best Book of the YearA Shelf Awareness Best Book of the Year"[Donoghue's] fans will recognize not only her gift for representing a child's point of view, but also her knack for showing how a family, no matter how small or large, develops its own language, even its own culture." -- The New York Times* "A family very much of our century... Most refreshing is that the Lotterys' many differences... are simply part of their own normal. Full of clever names and wordplay, this engaging tale... will resonate with readers from all backgrounds." -- Kirkus Reviews, starred review* "Donoghue (Room) vividly captures the Lotterys' chaotic but always loving home through a flurry of inside jokes, banter, and nicknames. If some readers have difficulty keeping the members of the large family straight, Hadilaksono's lively David Roberts-esque illustrations... provide a colorful guide to the Lotterys' wonderfully offbeat home." -- Publishers Weekly, starred review

Praise for The Lotterys Plus OneA Kirkus Best Book of the YearA Publishers Weekly Best Book of the YearA Shelf Awareness Best Book of the Year"[Donoghue's] fans will recognize not only her gift for representing a child's point of view, but also her knack for showing how a family, no matter how small or large, develops its own language, even its own culture." -- The New York Times* "A family very much of our century... Most refreshing is that the Lotterys' many differences... are simply part of their own normal. Full of clever names and wordplay, this engaging tale... will resonate with readers from all backgrounds." -- Kirkus Reviews, starred review* "Donoghue (Room) vividly captures the Lotterys' chaotic but always loving home through a flurry of inside jokes, banter, and nicknames. If some readers have difficulty keeping the members of the large family straight, Hadilaksono's lively David Roberts-esque illustrations... provide a colorful guide to the Lotterys' wonderfully offbeat home." -- Publishers Weekly, starred review