The Koala Who Could (Hardcover)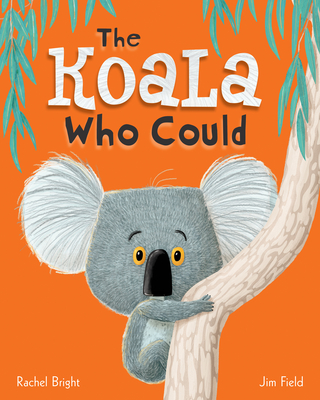 Description
---
Sometimes a little CHANGE can open your world to BIG possibilities.You see, high-up was safe since he liked a slow pace,While the ground down below seemed a frightening place.Too fast and too loud and too big and too strange.Nope. Kevin preferred not to move or to change.Kevin the koala loves every day to be the same, where it's snug and safe. But when change comes along, will Kevin embrace all the joys that come with trying something new?An inspiring rhyming read aloud by bestselling Love Monster creator Rachel Bright and Frog on a Log? illustrator Jim Field that empowers young readers to face change with courage and delight.
About the Author
---
Jim Field is an award-winning illustrator, character designer, and animation director. He has worked on a wide variety of projects, from music videos and title sequences to advertising and books.
His first picture book, Cats Ahoy!, won the Booktrust Roald Dahl Funny Prize and was nominated for the Kate Greenaway award. Since then he has illustrated a string of bestselling, multi-award-winning children's books, including Frog on a Log? and The Lion Inside, as well as young fiction series Rabbit & Bear, middle-grade novels by David Baddiel, and his debut author-illustrator picture book Monsieur Roscoe On Vacation, a bilingual book that introduces first French words. He grew up in Farnborough, UK, worked in London, and now lives in Paris with his wife and young daughter.
Praise For…
---
"Great illustration matched with fun rhyming text make for a solid tale of letting go and trying something new." -- School Library Journal"The jaunty rhyming text and brightly colored illustrations show an amusing ensemble of animals and help lighten the message, clearly stated at the end: 'Life can be great when you try something new!' They also cleverly strike a balance between portraying the basis for Kevin's fears and showing how little he needs to fear." -- Booklist

"Great illustration matched with fun rhyming text make for a solid tale of letting go and trying something new." -- School Library Journal"The jaunty rhyming text and brightly colored illustrations show an amusing ensemble of animals and help lighten the message, clearly stated at the end: 'Life can be great when you try something new!' They also cleverly strike a balance between portraying the basis for Kevin's fears and showing how little he needs to fear." -- Booklist