Unbound: A Novel in Verse (CD-Audio)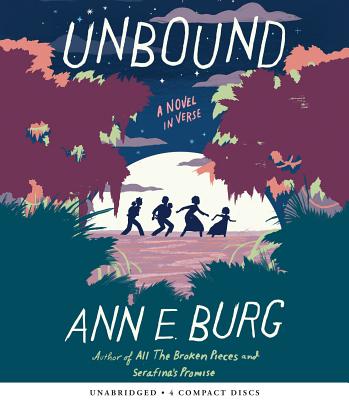 $24.99
Email or call for price.
Description
---
From the award-winning author of ALL THE BROKEN PIECES and SERAFINA'S PROMISE comes a new novel-in-verse that is a gripping, transcendent story about a little-known piece of slave history.FORMAT: 5 CDs, UnabridgedGrace has grown up in slavery. As difficult as life on the Virginia plantation is, at least she has her family: Momma, her younger brothers, Thomas and Willy, Aunt Sara, and Uncle Jim. When she overhears Master and Mistress plotting to sell her brothers, she and her family decide to run away that same night. But without time to plan their escape and go north along the Underground Railroad, their only choice is to head deep into the woods of the Dismal Swamp--a remote wilderness, filled with wild animals; daily searches for food, water, and shelter; and the ever present anxiety of being caught. Historians have recently discovered evidence of the Dismal Swamp, and a community of slaves who sought refuge there. Ann Burg's unflinching story, written in her signature luminous verse, sheds light on this little-known story and the courage of a people who risked everything for the chance to be free.
About the Author
---
Ann Burg's debut novel, All the Broken Pieces, was named an ALA Best Book for Young Adults, a Jefferson Cup award winner and an IRA Notable Book for a Global Society, among its many honors. Her follow-up, Serafina's Promise, was named an ALA Notable, a Parents' Choice Gold Award Winner, and an NAACP Image Award finalist. Her latest novel, Unbound, was the winner of the New-York Historical Society Children's History Book Prize and the Christopher Award, among other distinctions. Burg worked as an English teacher for ten years before becoming a full-time writer. She lives in Rhinebeck, New York, with her family. Visit her online at annburg.com.
Praise For…
---
Awards and Praise for All the Broken Pieces:Jefferson Cup award winnerBooklist Editors' ChoiceALA Best Books for Young AdultsIRA Notable Book for a Global SocietyALA Popular Paperback for Young Adults*"[A] stirring debut novel . . . will make readers want to rush to the end and then return to the beginning again to make connections between past, present, friends and enemies."--Booklist, starred review*"The verse form carries highly charged emotions and heavy content with elegiac simplicity." --Kirkus Reviews, starred review*"Using spare free verse, first-time novelist Burg beautifully evokes the emotions of a Vietnamese adoptee as he struggles to come to terms with his past." --Publishers Weekly, starred review"...the story is a lovely, moving one." --School Library JournalAwards and Praise for Serafina's Promise:Starred review from Kirkus Reviews and School Library JournalKirkus Best Book of the YearParents' Choice Gold Award winnerSchool Library Journal Best Books of the YearNew York Public Library 100 Books for Giving and SharingThe Herald-Sun Wilde Award for Longer books, Middle grade novelCybils Awards Finalists, Middle Grade FictionNAACP Image Awards Outstanding Literary Work-Youth/Teens nomineeALA Notable BookALA Notable Trade Book in the Field of Social StudiesMichigan Great Lakes Great Books Award nomineeBank Street College Children's Book Committee - Best Children's Books of the YearAméricas Award, Commended Title

Awards and Praise for All the Broken Pieces:Jefferson Cup award winnerBooklist Editors' ChoiceALA Best Books for Young AdultsIRA Notable Book for a Global SocietyALA Popular Paperback for Young Adults*"[A] stirring debut novel . . . will make readers want to rush to the end and then return to the beginning again to make connections between past, present, friends and enemies."--Booklist, starred review*"The verse form carries highly charged emotions and heavy content with elegiac simplicity." --Kirkus Reviews, starred review*"Using spare free verse, first-time novelist Burg beautifully evokes the emotions of a Vietnamese adoptee as he struggles to come to terms with his past." --Publishers Weekly, starred review"...the story is a lovely, moving one." --School Library JournalAwards and Praise for Serafina's Promise:Starred review from Kirkus Reviews and School Library JournalKirkus Best Book of the YearParents' Choice Gold Award winnerSchool Library Journal Best Books of the YearNew York Public Library 100 Books for Giving and SharingThe Herald-Sun Wilde Award for Longer books, Middle grade novelCybils Awards Finalists, Middle Grade FictionNAACP Image Awards Outstanding Literary Work-Youth/Teens nomineeALA Notable BookALA Notable Trade Book in the Field of Social StudiesMichigan Great Lakes Great Books Award nomineeBank Street College Children's Book Committee - Best Children's Books of the YearAméricas Award, Commended Title