Cecil's Pride: The True Story of a Lion King (Hardcover)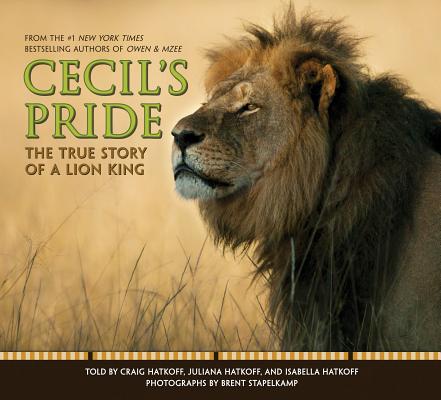 $17.99
Email or call for price.
Description
---
Known as the King of Beasts, the lion has always been a symbol of strength and courage. But there was one real lion that earned the title of Lion King. He was known simply by name: Cecil. News of his tragic death spread across the globe like wildfire, raising questions to an unprecedented level about our relationship to our animals and our planet.

 Cecil's Pride is a tale of resilience and responsibility--a triumph out of tragedy. Discover Cecil's struggle as a young lion to survive, his rise to power, and his extraordinary alliance with Jericho, his former arch-rival.  Cecil is gone, but his legacy lives on. The world knows the story of how Cecil died. This is the story of how he lived.

Complete with stunning photographs by Brent Stapelkamp, a photographer and lion researcher with the Oxford University Wildlife Conservation Research Unit that has tracked Cecil and his pride for nine years.
About the Author
---
Craig Hatkoff is the co-founder of the Tribeca Film Festival and of Turtle Pond Publications. Both Owen & Mzee: The True Story of a Remarkable Friendship and Owen & Mzee: The Language of Friendship are New York Times bestsellers. He lives with his wife and their two daughters in Manhattan.
Praise For…
---
From New York Times Book Review:
 
When a trophy-hunting American tourist killed Cecil the lion last year, the disturbing story gripped the public: He had been illegally lured out of the protected Zimbabwe game park where he lived by a rogue hunting guide. Cecil had been a favorite of safari tourists, whom he'd sometimes approach and even seem to pose for, and he was also a key part of a continuing Oxford University wildlife behavior study. His loss was crushing to many. But there is more to the story, as Craig, Juliana and Isabella Hatkoff recount in "Cecil's Pride," an enlightening book filled with stunning photos taken by one of the researchers who tracked Cecil.
 
The Hatkoffs are also the authors of the best seller "Owen and Mzee: The True Story of a Remarkable Friendship" and of "Knut: How One Little Polar Bear Captivated the World." They have an eye for fascinating true tales of animal relationships. Written in direct, workmanlike language, their books don't romanticize animal behavior, even as they focus on those aspects that tug at human hearts. While Cecil's story does not feature cross-species bonding, as their other books do, an unusual connection lies at its core: Before his death, Cecil had forged a kinship with an unrelated male lion named Jericho — an extremely rare occurrence in the lion world. These two leaders joined forces, combining their families into one pride, when both were threatened by a pair of brothers intent on taking over their territory. After Cecil's death, the researchers worried that Jericho would kill Cecil's cubs. But Jericho — who emerges as the story's true hero —returned to the pride and raised Cecil's cubs as his own. In a book that ends with a note of alarm about the dire need for a ban on lion hunting, that's a remarkable happy ending, and more evidence for approaching wildlife with awe and respect, as there is always more to learn from and about them.