The Fabled Life of Aesop: The extraordinary journey and collected tales of the world's greatest storyteller (Hardcover)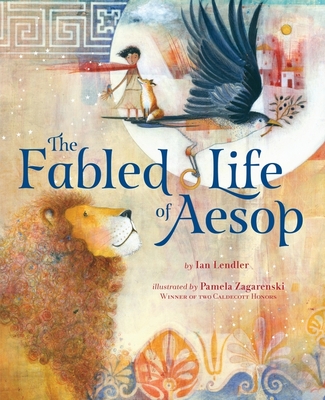 Description
---
★ "Lovely art comes with unusual perspectives on familiar tales about lions, mice and trickster foxes."   —Kirkus, starred review
 
"Many children are familiar with Aesop's fables but it is a fair bet that few know much about the storyteller himself…(a) beautiful volume."   —Wall Street Journal

Honoring the path of a slave, this dramatic picture-book biography and concise anthology of Aesop's most child-friendly fables tells how a child born into slavery in ancient Greece found a way to speak out against injustice by using the skill and wit of his storytelling—storytelling that has survived for 2,500 years. Stunningly illustrated by two-time Caldecott Honor winner Pamela Zagarenski.

The Tortoise and the Hare. The Boy Who Cried Wolf. The Fox and the Crow. Each of Aesop's stories has a lesson to tell, but Aesop's life story is perhaps the most inspiring tale of them all.

Gracefully revealing the genesis of his tales, this story of Aesop shows how fables not only liberated him from captivity but spread wisdom over a millennium. This is the only children's book biography about him.

Includes thirteen illustrated fables:  The Lion and the Mouse, The Goose and the Golden Egg, The Fox and the Crow, Town Mouse and Country Mouse, The Ant and the Grasshopper, The Dog and the Wolf, The Lion and the Statue, The Tortoise and the Hare, The Boy Who Cried Wolf, The North Wind and the Sun, The Fox and the Grapes, The Dog and the Wolf, The Lion and the Boar.
About the Author
---
Ian Lendler is the author of the acclaimed Stratford Zoo graphic novel series and the picture books, Undone Fairy Tale, Saturday, and One Day A Dot. He is at one with the universe, but only when eating pizza. He lives near San Francisco, CA.

Pamela Zagarenski is the winner of two Caldecott Honors. The books she has illustrated have also been Booklist Editor's Choices, Horn Book Fanfare and Bulletin Blue Ribbon books, winners of Bank Street's Claudia Lewis Award, and translated into many languages. As well as illustrating picture books, she creates paintings and has a gift card line. She lives in Connecticut. Visit her online at pzagarenski.com, on Instagram @sacredbee, and Twitter @sacredbeez.
Praise For…
---
"Many children are familiar with Aesop's fables, but it is a fair bet that few know much about the storyteller himself.... Pamela Zagarenski's luminous, slightly distempered artwork brings richness and delicacy to this beautiful volume."—Wall Street Journal ★ "Lovely art comes with unusual perspectives on familiar tales about lions, mice, and trickster foxes." —Kirkus, STARRED review "Zagarenski's fantastical illustrations, rendered in blues and golden tones, are full of charming incongruities finely detailed." —Publishers Weekly "Lendler gives depth to a collection of Aesop's fables by incorporating them into the story of their teller's life.... [L]avishly illustrated."—The Horn Book "Exquisitely beautiful."—Elizabeth Bird, Fuse #8 —