Shadows of Self: A Mistborn Novel (The Mistborn Saga #5) (Paperback)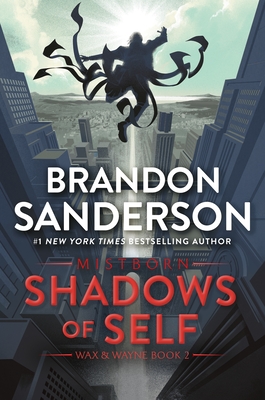 $21.99

In Our Warehouse - Expected arrival in 2-5 days
Other Books in Series
This is book number 5 in the The Mistborn Saga series.
Description
---
From #1 New York Times bestselling author Brandon Sanderson, the Mistborn series is a heist story of political intrigue and magical, martial-arts action.

Waxillium Ladrian was a lawman in Scadrial's ungoverned frontier region, known as the Roughs, where he worked with his eccentric but effective buddy, Wayne. They are "twinborn," meaning they are able to use both Allomantic and Feruchemical magic. In their world, technology and magic mix, democracy contends with corruption, and religion becomes a growing cultural force, with four faiths competing for converts.

This bustling, optimistic, but still shaky society now faces its first instance of terrorism, crimes intended to stir up strife. Wax and Wayne, assisted by the brilliant Marasi, must unravel the conspiracy before it stops Scadrial's progress in its tracks.

Other Tor books by Brandon Sanderson

The Cosmere

The Stormlight Archive
The Way of Kings
Words of Radiance
Edgedancer (Novella)
Oathbringer
Dawnshard (Novella)
Rhythm of War

The Mistborn trilogy
Mistborn: The Final Empire
The Well of Ascension
The Hero of Ages

Mistborn: The Wax and Wayne series
Alloy of Law
Shadows of Self
Bands of Mourning
The Lost Metal

Collection
Arcanum Unbounded

Other Cosmere novels
Elantris
Warbreaker

The Alcatraz vs. the Evil Librarians series
Alcatraz vs. the Evil Librarians
The Scrivener's Bones
The Knights of Crystallia
The Shattered Lens
The Dark Talent

The Rithmatist series
The Rithmatist

Other books by Brandon Sanderson

The Reckoners
Steelheart
Firefight
Calamity
About the Author
---
Brandon Sanderson grew up in Lincoln, Nebraska. He lives in Utah with his wife and children and teaches creative writing at Brigham Young University. His bestsellers have sold 30 million copies worldwide and include the Mistborn® saga; the Stormlight Archive novels; and other novels, including The Rithmatist, Steelheart, and Skyward. He won a Hugo Award for The Emperor's Soul, a novella set in the world of his acclaimed first novel, Elantris. Additionally, he was chosen to complete Robert Jordan's Wheel of Time® sequence. Visit his website for behind-the-scenes information on all his books.
Praise For…
---
Praise for the Mistborn series and Brandon Sanderson

Mistborn
"A breathtaking saga that promises twists every step of the way… succeeds in celebrating what makes fantasy magical while simultaneously delivering a fresh adventure that's endlessly entertaining." —Paste Magazine, "The 50 Best Fantasy Books of the 21st Century (So Far)"

Hero of Ages
"Sanderson is an evil genius. There is simply no other way to describe what he's managed to pull off in this transcendent final volume of his Mistborn trilogy." —RT Book Reviews

Alloy of Law
"Rollicking adventure … Part Sherlock Holmes, part X-Men, this exciting stand-alone adventure is full of close shaves, shootouts, and witty banter." —Publishers Weekly

"A fresh view of how a world can grow, building new dimensions into the best of the old. Sanderson continues to show that he is one of the best authors in the genre." —Library Journal, starred review

"An engaging and fun romp of a read. The characters really shine in this book."—RT Book Reviews

Shadows of Self
"Delivers more excitement, adventure, and magic in a newly industrialized world that is as richly realized as any of Sanderson's creations." —Buzzfeed

The Bands of Mourning
"Witty, memorable characters; a fast-moving, plate-spinning plot; and a deepening of one of the most creative magic systems ever conceived: it's everything a Sanderson fan could ask for." —B&N Sci-Fi and Fantasy Blog