A Strange and Stubborn Endurance (The Tithenai Chronicles #1) (Hardcover)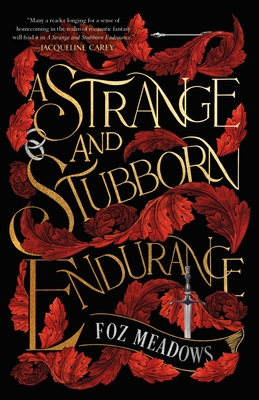 $27.99

In Our Warehouse - Expected arrival in 2-5 days
Description
---
"Many a reader longing for a sense of homecoming in the realm of romantic fantasy will find it in A Strange and Stubborn Endurance."—Jacqueline Carey

"Stolen me? As soon to say a caged bird can be stolen by the sky."

Velasin vin Aaro never planned to marry at all, let alone a girl from neighboring Tithena. When an ugly confrontation reveals his preference for men, Vel fears he's ruined the diplomatic union before it can even begin. But while his family is ready to disown him, the Tithenai envoy has a different solution: for Vel to marry his former intended's brother instead.

Caethari Aeduria always knew he might end up in a political marriage, but his sudden betrothal to a man from Ralia, where such relationships are forbidden, comes as a shock.

With an unknown faction willing to kill to end their new alliance, Vel and Cae have no choice but to trust each other. Survival is one thing, but love—as both will learn—is quite another.

Byzantine politics, lush sexual energy, and a queer love story that is by turns sweet and sultry, Foz Meadows' A Strange and Stubborn Endurance is an exploration of gender, identity, and self-worth. It is a book that will live in your heart long after you turn the last page.
About the Author
---
Foz Meadows is a queer Australian author, essayist, reviewer and poet. They have won two Best Fan Writer awards (a Hugo Award in 2019 and a Ditmar Award in 2017) for yelling on the internet, and have also received the Norma K. Hemming Award in 2018 for their queer Shakespearean novella, Coral Bones. Their essays, reviews, poetry and short fiction have appeared in various venues, including Uncanny, Apex Magazine, Goblin Fruit, HuffPost, and Strange Horizons. Meadows currently lives in California with their family.
Praise For…
---
Praise for A Strange and Stubborn Endurance:

"Many a reader longing for a sense of homecoming in the realm of romantic fantasy will find it in A Strange and Stubborn Endurance."—Jacqueline Carey, New York Times bestselling author of the Kushiel's Legacy series

"A complete joy to read. From the love story, to the slow healing of the main character, to the intricate mystery of the plot, Meadows has constructed a world to get lost in and this is a book to savour."—Everina Maxwell, author of Winter's Orbit

"An emotionally gripping, delightful queer fantasy filled with political intrigue, family dynamics, and tender moments that will grab readers' hearts and minds."—Library Journal, starred review

"A delicate meditation on trauma, loyalty, and trust... Meadows skillfully integrates gripping mystery and satisfying slow-burn romance. The result is sure to delight."—Publishers Weekly

"An absolute delight! A perfect balance of romance, fantasy politics, and a truly sinister murder plot. It put me in mind of The Goblin Emperor (earnest but wounded lead characters you can't help rooting for) and Winter's Orbit (queer marriage of convenience with deep sff politics)"—Olivia Waite, award-winning author

"I flew through this book and enjoyed every page of the journey...I loved that this was a gripping political fantasy, but I loved even more that it was wrapped around a stubbornly kindhearted romance."—Freya Marske, author of A Marvellous Light

"Gorgeous romance, a slick murder mystery, and a political thriller all rolled into one, with characters you quickly grow to love and root for. Most of all, it's a novel about learning to accept oneself, whatever may have been done to you."—Mike Brooks

"An engrossing political intrigue and romance set in a world that feels complex and lived-in; beautifully realised and a pleasure to read!"—Sam Hawke, author of City of Lies

"A satisfying balance of romance and action, with political intrigue that is both elaborate and plausible and rich, fascinating worldbuilding."—Malka Older, award-winning author

"Blending intrigue and queer romance, A Strange and Stubborn Endurance stitches together two cultures and re-embroiders gender conventions. Meadows combines the personal and political through an elegant voice, and finds time for tender moments of healing."—E.J. Beaton, author of The Councillor

"A heartfelt, meticulously observed romance, a page-turning mystery, and a world that feels real enough to live in."—H.G. Parry

"A very human story, and an unabashed love story, it nonetheless deals with issues around power, parental neglect (or at least ignorance), cruelty, and ambition in a way that never feels forced or supplemental to the main characters as they navigate arranged marriage and a traumatic past."—Anna Stephens, author of the Godblind trilogy

"A Strange and Stubborn Endurance blends beautiful prose with a richly imagined world, but it's the raw, real emotional stakes that kept me turning the pages. A smart and sensitive read!"—Rowena Miller

"A Strange and Stubborn Endurance is a book of nuance, passion, and insight, and effectively showcases Foz Meadows' talents."—Juliette Wade

Praise for Foz Meadows and the Manifold Worlds series:

"Compelling characters and a fascinating world. I can't wait to read the next book." – Martha Wells, New York Times bestselling author of the Murderbot Diaries, on An Accident of Stars

"All the things I'd enjoyed about portal fantasies as a younger reader." – Ann Leckie, New York Times bestselling author, on An Accident of Stars

"A compelling blend of intimacy, danger, twisty politics, believably imperfect characters, and a fascinatingly complex universe." – Kate Elliott, New York Times bestselling author on, An Accident of Stars

"A superlative portal fantasy with a memorable cast, an inventive setting and magic system, and a plot that always goes for the unexpected. Sheer delight." – Aliette de Bodard, Nebula Award-winning author of The House of Shattered Wings, on A Tyranny of Queens

"Fantasy readers who appreciate strong characters and excellent worldbuilding will immerse themselves in this tale." – Publishers Weekly, starred review, on An Accident of Stars

"The characterisation is fantastic. The conclusion is nerve-biting and explosive – and has dragons… I really really love it" – Tor.com on A Tyranny of Queens

"A portal fantasy for grownups, with grit and realism, and characters I loved from the first page." – Trudi Canavan, author of the Black Magician trilogy, on An Accident of Stars

"Reminiscent of Ursula K. Le Guin, An Accident of Stars will take you to a lush, magical new world." – Laura Lam

"An Accident of Stars is anchored in dozens of complex women, driven by the rooted, deep relationships they have with each other. It's a wonderful, rich, feminist book, and I loved it." – B. R. Sanders, author of Ariah

"Richly imaginative world building with delightfully complex and diverse characters; a joy to read!" – Ann Lemay, videogame writer, on An Accident of Stars