Dead Shot (Kyle Swanson Sniper Novels) (Paperback)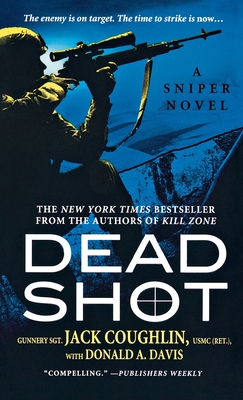 $25.99
In Our Warehouse - Expected arrival in 2-5 days
Description
---
In Baghdad's Green Zone, an Iraqi scientist is murdered just before he can reveal the secret that Saddam Hussein took to his grave: the location of the Palace of Death--home to a devastating chemical weapon quietly developed by Islamic militants.
The assassination is the work of a mysterious sniper called Juba, who was trained by the British but now works with a twisted mastermind determined to steal control of the terrorist world from Al Qaeda. When he tests the new weapon by killing hundreds of people at a British royal wedding in London, the devastation is all too real. Kyle Swanson, once the top sniper in the Marine Corps and now the key member of a secret special operations team known as Task Force Trident, is assigned to hunt down his old special ops rival. A new reign of global terror can be stopped only by a confrontation between the two best snipers in the world, a duel in which the first shot wins--most of the time...
About the Author
---
Gunnery Sgt. Jack Coughlin was the Marine Corps' highest ranked sniper in the Iraq War. He served with the the Third Battalion, Fourth Marines during the drive to Baghdad and has operated on a wide range of assignments in hot spots around the world. He is co-author of the Kyle Swanson Sniper Novels, and of his autobiography, Shooter. Donald A. Davis is the author of Lightning Strike: The Secret Mission to Kill Admiral Yamamoto and Avenge Pearl Harbor, and numerous other books, including several New York Times bestsellers. He lives outside Boulder, Colorado.