Stan Lee's The Devil's Quintet: The Shadow Society: A Novel (Hardcover)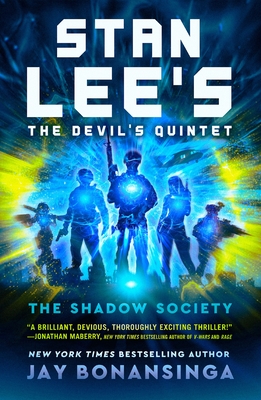 $28.99

In Our Warehouse - Expected arrival in 2-5 days
Description
---
Born of the legendary imagination that brought us Spider-Man, The Avengers, The X-Men, and an enduring universe of marvelous heroes and villains, Stan Lee's The Devil's Quintet return to take on a fiendish new adversary: The Shadow Society.

Ever since The Armageddon Code, the Devil's Quintet have been using their demonic powers to fight evil and protect the world, while remaining nothing but an urban legend to the general public. But the Devil is not about to let them keep using his powers for good.

Created by Satan himself to counter the Quintet, the Shadow Society are five saintly men and women that have been secretly (and strategically) possessed by five of Hell's most powerful demons. Granted supernatural powers of their own, they are part of a literally diabolical plot to strike at the very heart of the Quintet—and destroy humanity's last hope!
About the Author
---
JAY BONANSINGA is a critically acclaimed horror novelist whose works include Perfect Victim, Shattered, Twisted, and Frozen. His debut novel, The Black Mariah, was a finalist for a Bram Stoker award.

STAN LEE was a successful writer and editor for nearly eighty years. Lee was known to the world as the man whose superheroes propelled Marvel to its preeminent position in the entertainment industry. His co-creations included Spider-Man™, The Avengers™, Black Panther™, X-Men™, Iron Man™, The Incredible Hulk™, The Fantastic Four™, and hundreds of others. Lee continued to serve as Marvel Entertainment's Chairman Emeritus until his death in 2018.
Praise For…
---
Praise for The Devil's Quintet

"A brilliant, devious, thoroughly exciting thriller! A perfect blend of high-concept SpecOps action and devious horror. Stan Lee and Jay Bonansinga bring the pain but never forget the heart!"
—Jonathan Maberry, New York Times bestselling author of V-Wars and Rage

"A fast and wildly entertaining mix of military derring-do, demonology, romance, crackling wit, and verbal dexterity that will keep readers panting for the next installment."
—Gary Braver, award-winning and bestselling author of Tunnel Vision and co-author of Choose Me

"A twisted, high-powered cross between SEAL Team Six and Doctor Faustus. A rag tag group of soldiers winds up forging a deal with the devil and literally ends up saving the world. Memorable heroes and a gripping, hard-pulsing writing style elevates one of the final works of Stan Lee for an eager audience."
—Peter David, New York Times bestselling author

"Action fans will rejoice at this adrenaline-charged series opener."
—Publishers Weekly

Praise for Stan Lee

"There were plays before Shakespeare, but the Bard's work revolutionized the theater ... and Stan Lee did the same for comic books."
—George R.R. Martin, international bestselling author

"I think his legacy will only continue to grow."
—Todd McFarlane, creator of Spawn

"Stan Lee ... helped revolutionize and update the American comic book industry ... and transformed an entire culture."
—The Boston Herald.

Praise for Jay Bonansinga

"Jay Bonansinga has quickly and firmly established himself as one of the imaginative writers of thrillers."
—The Chicago Tribune