Before the Ruins: A Novel (Hardcover)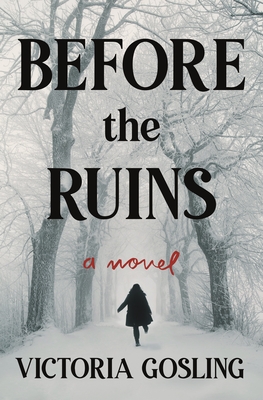 $26.99
Email or call for price.
Description
---
Named a Best New Book of 2021 (so far) by Real Simple
Named a Most Anticipated Book of 2021 by Lit Hub and Bustle

A gripping, multilayered debut in the tradition of Tana French and Donna Tartt about four friends, an empty manor, and a night that will follow them for the rest of their lives

It's the summer of 1996 and school's out forever for Andy, her boyfriend Marcus, her best friend Peter, and Em. When Andy's alcoholic mother predicts the apocalypse, the four teenagers decide to see out the end of the world at a deserted manor house, the site of a historic unsolved mystery. There they meet David—charming and unreliable, he seems to have appeared out of nowhere.

David presents an irresistible lure for both Andy and Peter and complicates the dynamics of their lifelong friendship. When the group learns that a diamond necklace, stolen fifty years ago, might still be somewhere on the manor grounds, the Game—half treasure hunt, half friendly deception—begins. But the Game becomes much bigger than the necklace, growing to encompass years of secrets, lies, and, ultimately, one terrible betrayal.

Meticulously plotted and gorgeously written, Before the Ruins is a page-turner of the highest order about the sealed-off places in our pasts and the parts of ourselves waiting to be retrieved from them.
About the Author
---
Victoria Gosling, author of Before the Ruins, grew up in Wiltshire, England, and studied English literature at Manchester University. She is the founder of The Reader Berlin, hosting salon nights in Berlin and writers' retreats in Greece and Italy. She also organizes the Berlin Writing Prize.
Praise For…
---
"Gosling is a stylish, sophisticated writer, and we realize that we are following Andy on what amounts to a grand scavenger hunt for the truth. Rain falls relentlessly, and the ensuing floods form an ominous backdrop to a story that becomes darker as it goes along."
—The New York Times Book Review

"Before the Ruins is a lush and layered thriller that mystery lovers will savor."
—Real Simple

"In this wonderfully sophisticated and beautifully conceived novel, the exceptionally talented Gosling does what many new authors can't: She skillfully navigates several interconnecting timelines in an already multifaceted and complex story. This can be problematic for even the most successful and seasoned novelists, but Gosling handles this obstacle with a unique and clever touch that is quite refreshing. "
— New York Journal of Books

"Whip-smart."
—ShelfAwareness

"Gosling uses her richly ruinous setting as a jumping off point to examine class, innocence, morality, and loss."
—Lit Hub

"Richly atmospheric and exquisitely written, Before the Ruins is wistful and haunting, hopeful and beautiful. Confidently contributing to the tradition of British mysteries, Gosling has delivered a tale that will satisfy fans of Tana French and Paula Hawkins."
—BookPage

"The moody, gothic atmosphere enhances this very English [story]...Gosling not only excels in writing a mystery steeped in British history, but a mystery of this woman—how did she overcome what happened to her as a child, how did she become this person she is now?"
–Newcity Lit

"Gosling's atmospheric debut takes a familiar theme – the way the things we do as teenagers reverberate in later life – but treats it with care and empathy...it's the finely drawn characters, especially the spiky narrator Andrea, that linger in the memory."
–Daily Mail UK

"[A] stellar debut. . . .The gorgeous, poetic prose perfectly complements the suspenseful plot. Gosling is off to a terrific start."
–Publishers Weekly, starred review

"The elements of mystery serve to provide narrative tension, but the real point here is Gosling's examination of the disappointment of modern living, the emptiness of adulthood, and the notion of the fake diamond necklace so many of us spend our lives searching for... Come for the missing person mystery, stay for the existential ennui."
–Kirkus

"Engrossing, beguiling, and with an undertow of menace, Before the Ruins is a masterly debut from a richly talented author."
–Sarah Waters, author of The Paying Guests

"Lush and razor-sharp, Before the Ruins is both deliciously gothic and completely contemporary. Every single page is absorbing and surprising."
–Flynn Berry, author of Under the Harrow

"I don't know the last time I enjoyed a book this much. Unbelievably tense and incredibly smart, Victoria's Gosling's story about four friends playing a truly terrifying game of cat-and-mouse in a deserted manor house is the perfect menage a trois of superb plotting, haunting characters, and gorgeous, atmospheric prose. Tana French fans will devour this."
–Aimee Molloy, author of The Perfect Mother

"Four disaffected teenagers, a deserted manor, an unlimited supply of drugs, and a cache of potentially explosive secrets. What could go right? Before the Ruins, Victoria Gosling's stunner of a debut novel, is rich with mystery and moral disorder. It put me in mind of Edward St. Aubyn and Donna Tart; dark, fierce, and totally addictive."
–Valerie Martin, author of Property and Trespass