Destroyer of Worlds (Known Space #3) (Paperback)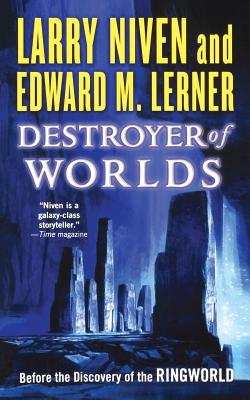 $18.99
Email or call for price.
Other Books in Series
This is book number 3 in the Known Space series.
Description
---
Worlds closer to the galatic core than Known Space are --or were-- home to intelligent speciers. Some learned of the core explosion in time to flee.

Destroyer of Worlds opens in 2670, ten years after Juggler of Worlds closes; with refugee species fleeing in an armada of ramscoops in the direction of the Fleet of Worlds. The onrushing aliens are recognized as a threat; they have left in their trail a host of desolated worlds: some raided for supplies, some attacked to eliminate competition, and some for pure xenophobia.

Only the Puppeteers might have the resources to confront this threat--but the Puppeteers are philosophical cowards... they don't confront anyone. They need sepoys to investigate the situation and take action for them. The source of the sepoys? Their newly independent former slave world, New Terra.
About the Author
---
Larry Niven is the award-winning author of the Ringworld series, along with many other science fiction masterpieces and fantasy including the Magic Goes Away series. His Beowulf's Children, co-authored with Jerry Pournelle and Steven Barnes, was a New York Times bestseller. He has received the Nebula Award, five Hugos, four Locus Awards, two Ditmars, the Prometheus, and the Robert A. Heinlein Award, among other honors. He lives in Chatsworth, California.

Edward M. Lerner worked in high tech for thirty years, as everything from engineer to senior vice president, for much of that time writing science fiction as a hobby. Since 2004 he has written full-time, and his books run the gamut from technothrillers, like Small Miracles, to traditional SF, like his InterstellarNet series, to, with Larry Niven, the grand space epic Fleet of Worlds series of Ringworld companion novels.   Ed's short fiction has appeared in anthologies, collections, and many of the usual science fiction magazines. He also writes the occasional nonfiction article, on topics as varied as asteroid deflection, privacy (or lack thereof) in the Internet age, and the role of communications in SF.