All Hallows: A Novel (Hardcover)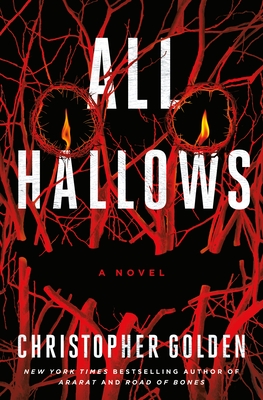 $29.00

In Our Warehouse - Expected arrival in 2-5 days
Description
---
New York Times bestselling, Bram Stoker Award-winning author Christopher Golden is best known for his supernatural thrillers set in deadly, distant locales...but in this suburban Halloween drama, Golden brings the horror home.

It's Halloween night, 1984, in Coventry, Massachusetts, and two families are unraveling. Up and down the street, secrets are being revealed, and all the while, mixed in with the trick-or-treaters of all ages, four children who do not belong are walking door to door, merging with the kids of Parmenter Road. Children in vintage costumes with faded, eerie makeup. They seem terrified, and beg the neighborhood kids to hide them away, to keep them safe from The Cunning Man.

There's a small clearing in the woods now that was never there before, and a blackthorn tree that doesn't belong at all. These odd children claim that The Cunning Man is coming for them...and they want the local kids to protect them. But with families falling apart and the neighborhood splintered by bitterness, who will save the children of Parmenter Road?

All Hallows. The one night when everything is a mask...
About the Author
---
CHRISTOPHER GOLDEN (he/him) is the New York Times bestselling and Bram Stoker award-winning author of Ararat, Snowblind, Dead Ringers, and Of Saints and Shadows, among many other novels. With Mike Mignola, he is the co-creator of two cult favorite comic book series, Baltimore and Joe Golem: Occult Detective. Golden is also the editor of such anthologies as Seize the Night, The New Dead, and Dark Cities, and the co-host of the popular podcast "Three Guys with Beards." He lives in Massachusetts.
Praise For…
---
"An atmospheric tale of folk horror shot through with unrelenting dread, All Hallows twists and turns in haunted woods until all your Halloween dreams (and nightmares) are made real." - Christina Henry, author of The Ghost Tree and Near the Bone

"Christopher Golden is in top form with All Hallows, a haunting horror tale that brings the bone-chilling terror right to your suburban front door. Golden turns up the fear and anxiety with a deft touch that evokes classics like King's Salem's Lot, channeling a different time while still crafting a terrifyingly modern story. All Hallows may be Golden's best yet." - Alex Segura, bestselling author of Secret Identity

"Somehow, in 2022, Christopher Golden has written the PERFECT 1980s horror thriller. Kids in peril! Karmic deaths! Just the right amount of gore! But he's done it with the skill and compassion of a master storyteller. He makes good choices throughout the story, and you can't reliably go 'good person, lives,' or 'bad person, dies.' Nothing feels unearned...Two full sized candy bars of approval." - Seanan McGuire

"I ripped through All Hallows like a wildfire. Straight-up classic-feeling old-school horror. Declare Golden the KING OF HALLOWEEN after that one. Preorder now!" --Chuck Wendig

"I love the novels of Christopher Golden, and this one is no exception." --Book Riot

"80's nostalgia, suburban secrets and seriously scary children - what more could you ask for from a horror novel? Wonderfully creepy and atmospheric, All Hallows is a perfect (Halloween) treat bag of chills." — C.J. Tudor, author of The Drift

"Easily recommended to curious parties, fans of Christopher Golden, or those looking for a new Halloween horror novel." --A Green Man Review