Mothers: Stories (Paperback)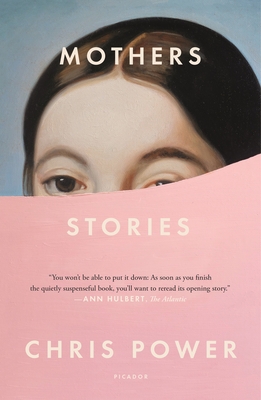 $17.00
Email or call for price.
Description
---
An "extraordinary" (The Sunday Times) debut of unnerving beauty, Chris Power's short story collection Mothers evokes the magic and despair of the essential human longing for purpose.

Chris Power's stories are peopled by men and women who find themselves at crossroads or dead ends—characters who search without knowing what they seek. Their paths lead them to thresholds, bridges, rivers, and sites of mysterious, irresistible connection to the past. A woman uses her mother's old travel guide, aged years beyond relevance, to navigate on a journey to nowhere; a stand-up comic with writer's block performs a fateful gig at a cocaine-fueled bachelor party; on holiday in Greece, a father must confront the limits to which he can keep his daughters safe. Braided throughout is the story of Eva, a daughter, wife, and mother, whose search for a self and place of belonging tracks a devastating path through generations.

Ranging from remote English moors to an ancient Swedish burial ground to a hedonistic Mexican wedding, the stories in Mothers lay bare the emotional and psychic damage of life, love, and abandonment. Suffused with yearning, Power's transcendent prose expresses a profound ache for vanished pasts and uncertain futures.
About the Author
---
Chris Power is the author of Mothers, which was longlisted for the Rathbones Folio Prize and shortlisted for the Edge Hill Short Story Prize. He lives in London.
Praise For…
---
Longlisted for the Rathbones Folio Prize

"You won't be able to put [Mothers] down: As soon as you finish the quietly suspenseful book, you'll want to reread its opening story." —Ann Hulbert, The Atlantic

"[Power's characters] yearn for the individual moments in their lives to mean something, a quality that makes them lovingly human . . . Power manages to convey […] the universality of a certain ache, of simply not knowing which experiences, which people, will hold weight in the future." —Tausif Noor, Bookforum

"Power is funny. He puts forth absurdity in the way you'd expect of a more modern (and better socialized) narrator of Beckett's . . . Not once does he break the delicate combination of breezy and desperate that constitutes the tenor in much of his work." —Sophie Dess, The Millions

"An elegant collection, touching on a host of issues deeply ingrained in our modern experience . . . Power's prose is spare and exacting, excising the needless word in pursuit of emotional truth. Mothers proves a rewarding experience for the lover of quiet short stories that speak volumes." —Zack Ravas, Zyzzyva

"These stories are intrigued by danger, real and imagined, particularly in the context of celebrations, jaunts and holidays . . . The prose, often expository and straightforward, is elevated by striking use of metaphor and simile. " —Jackie Thomas-Kennedy, Minneapolis Star Tribune

"Power's wide-ranging debut is confident, complex, bizarre, poignant, and elegantly crafted—a very strong collection." —Kirkus

"These stories thrive on closely observed details and moments told with both pathos and humor . . . Power asks us to consider and appreciate the very human and humanizing experience of striving for something just out of reach, or for opportunities just passed by." —Ross Dworman, Booklist

"Sparkling . . . There's plenty to admire in Power's writing, and the author mines his characters for unexpected traits and decisions, making for an auspicious debut." —Publishers Weekly

"The extraordinary thing about Chris Power's stories is the range of personalities and worlds he can inhabit. The sentences and paragraphs are simple but the more you look at them, the deeper they become. How wonderful to encounter this great new talent." —Akhil Sharma, author of A Life of Adventure and Delight

"Daring . . . Compelling . . . A uniquely unsettling and subtle debut collection." —Melissa Harrison, The Guardian

"Unsettling . . . These are strange stories, forbidding and unnerving, which need to be read carefully with an ear trained to what isn't being said, what isn't being heard." —Susie Boyt, The Financial Times

"There is an obsessive quality to the best of these stories that makes them feel pregnant with inscrutable meaning . . . It is testament to the depth and distinctiveness of Power's characters that it seems so important to try to understand them, even as they fail to understand themselves." —Edmund Gordon, The Sunday Times

"In Power's remarkable debut, he depicts mood, happenstance, self-deception and epiphany as well as any of his heroes. In using studied artifice, leaving out everything extraneous, he reveals life's complexity: the very chaos that we reckon with by telling stories." —Philip Maughan, New Statesman

"To read Mothers is to take a journey through a landscape familiar enough to console yet strange enough to unsettle. The thrills and dangers of such a journey lie with the unexpectedness of life's undercurrents and our uncertain, unknowable selves. Chris Power's quiet yet compelling touch is reminiscent of Alice Munro and Peter Stamm." —Yiyun Li, author of Dear Friend, from My Life I Write to You in Your Life