Better Off Undead (Paperback)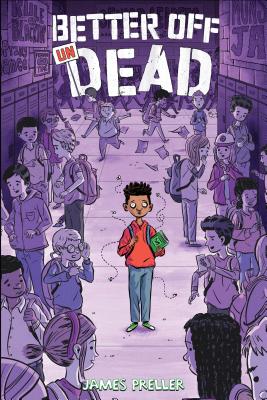 $18.99
Email or call for price.
Description
---
After becoming undead, a boy tries to survive middle school in this quirky, smart adventure for middle grade readers from James Preller.

Adrian Lazarus has met with a curious fate. He's returned from the dead (after a bad bike accident, no helmet), yet not a lot has changed. He's always been an outcast.

But it's not just being a zombie that makes Adrian feel different. He notices the world has changed, too: bees are vanishing, forest fires are burning, super-flus are spreading. The holographic advertisements in the night sky assure people that all is well. Adrian and his friends—a beekeeping boy, a mysterious new girl, and a seventh-grade sleuth—aren't so sure.

When they discover a birdlike drone has been spying on Adrian, the clues lead two powerful corporate moguls. What do they really want? Find out in Better Off Undead, a smart and funny middle-grade novel that brings together environmental concerns, sci-fi elements, and the supernatural.

This title has Common Core connections.

Praise for Better Off Undead:

"This uproarious middle grade call to action has considerable kid appeal and a timely message." —School Library Journal

"Against a near-future backdrop, Preller thoughtfully chronicles the anxieties of middle school, using a blend of comedy and horror to send a message of empowerment and self-acceptance." —Publishers Weekly

"Adrian may be undead, but this is much more than a zombie tale, as it touches upon cultural issues, media control, family bonds, and environmental issues. Fans of Carl Hiassen's Hoot will be as satisfied by this as will fans of monster books or those who appreciate stories of outcasts and coming-of-age stories. Highly recommended." —Children's Literature


More fast-paced adventure from James Preller:
The Courage Test
The Fall

The Scary Tales series:
Home Sweet Horror
I Scream, You Scream!
Good Night, Zombie
Nightmareland
One-Eyed Doll
Swamp Monster

The Jigsaw Jones Mysteries:
The Case of the Smelly Sneaker
The Case of the Mummy Mystery
The Case of the Glow in the Dark Ghost
The Case of the Bicycle Bandit
The Case from Outer Space
The Case of the Best Pet Ever
The Case of the Buried Treasure
The Case of the Million-Dollar Mystery
The Case of the Disappearing Dinosaur

About the Author
---
James Preller is the author of the popular Jigsaw Jones mystery books, which have sold more than 10 million copies since 1998. He is also the author of Bystander, named a 2009 Junior Library Guild Selection, Six Innings, an ALA Notable Book, and Mighty Casey, his own twist on the classic poem, "Casey at the Bat." In addition to writing full-time, Preller plays in a men's hardball league and coaches Little League. He compares coaching kids to "trying to hold the attention of a herd of earthworms." He lives in Delmar, New York with his wife, three children, cats and dog.
Praise For…
---
Praise for Better Off Undead:

"This uproarious middle grade call to action has considerable kid appeal and a timely message." —School Library Journal

"Against a near-future backdrop, Preller thoughtfully chronicles the anxieties of middle school, using a blend of comedy and horror to send a message of empowerment and self-acceptance." —Publishers Weekly

"Adrian may be undead, but this is much more than a zombie tale, as it touches upon cultural issues, media control, family bonds, and environmental issues. Fans of Carl Hiassen's Hoot will be as satisfied by this as will fans of monster books or those who appreciate stories of outcasts and coming-of-age stories. Highly recommended." —Children's Literature

Praise for The Courage Test:

"Preller stirs doses of American history into a first-rate road trip that does traditional double-duty as plot device and coming-of-age metaphor. . . . Despite the many plot threads, the story never seems overstuffed or weighed down by agendas. . . . Additionally, not only does the author slip cogent historical facts and insights into his simply told narrative without disturbing its flow, he offers more detail, plus sources of information, in an afterword." —Booklist, starred review