Fuzzy Nation (Paperback)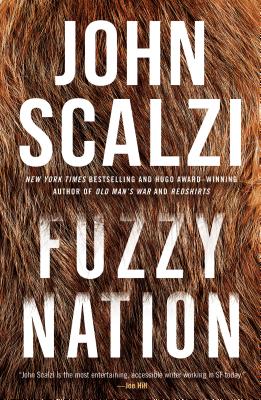 $18.99
Email or call for price.
Description
---
From New York Times bestseller and Hugo Award-winner John Scalzi, a trade paperback repackage of his extraordinary retelling of the SF classic Little Fuzzy—now with a new cover!

ZaraCorp holds the right to extract unlimited resources from the verdant planet Zarathustra—as long as the planet is certifiably free of native sentients. So when an outback prospector discovers a species of small, appealing bipeds who might well turn out to be intelligent, language-using beings, it's a race to stop the corporation from "eliminating the problem," which is to say, eliminating the Fuzzies—wide-eyed, ridiculously cute small furry creatures—who are as much people as we are.

Other Tor Books
The Android's Dream
Agent to the Stars
Your Hate Mail Will Be Graded
Fuzzy Nation
Redshirts

1. Lock In
2. Head On

The Interdepency Sequence
1. The Collapsing Empire
2. The Consuming Fire

Old Man's War Series
1. Old Man's War
2. The Ghost Brigades
3. The Last Colony
4. Zoe's Tale
5. The Human Division
6. The End of All Things
About the Author
---
John Scalzi won the 2006 John W. Campbell Award for Best New Writer, the 2013 Hugo Award for Best Novel for Redshirts, and his debut novel Old Man's War was a finalist for Hugo Award as well. His other books include The Ghost Brigades, The Android's Dream, The Last Colony and The Human Division. He has won the Romantic Times Reviewers Choice Award for science-fiction, the Seiun, The Kurd Lasswitz and the Geffen awards. His weblog, The Whatever, is one of the most widely-read web sites in modern SF. Born and raised in California, Scalzi studied at the University of Chicago. He lives in southern Ohio with his wife and daughter.
Praise For…
---
Praise for Fuzzy Nation

"A perfectly executed plot clicks its way to a stunning courtroom showdown in a cathartic finish that will thrill Fuzzy fans old and new." —Publishers Weekly, starred review

"In a genre flooded with bloated epics, it's a real pleasure to read a story like this, as compactly and directly told as a punch to the stomach." —Kirkus Reviews, starred review

"The perfect novel to...spark a lifelong love affair with science fiction and all it has to say about how we treat one another, how we treat the rest of the universe, and what we do when the circumstances offer us the chance to sell out our integrity for fortune." —BoingBoing

"The insanely cute Fuzzys (Scalzi's deep affection for critters is on full display here) and a real affection for Piper's original material, and you've got a book that can't miss." —BoingBoing

"Scalzi readers as well as Piper fans should enjoy this modern throwback to SF's early years." —Library Journal

Praise for John Scalzi

"Provocative and unexpected." —The Wall Street Journal on The Collapsing Empire

"Scalzi continues to be almost insufferably good at his brand of fun but think-y sci-fi adventure." —Kirkus Reviews on The Collapsing Empire

"John Scalzi is the most entertaining, accessible writer working in SF today." —Joe Hill

"If anyone stands at the core of the American science fiction tradition at the moment, it is Scalzi."
—The Encyclopedia of Science Fiction, Third Edition

"Scalzi is a master at creating appealing commercial fiction." —Kirkus Reviews, starred review, on Lock In