Neil Armstrong and Nat Love, Space Cowboys (Time Twisters) (Paperback)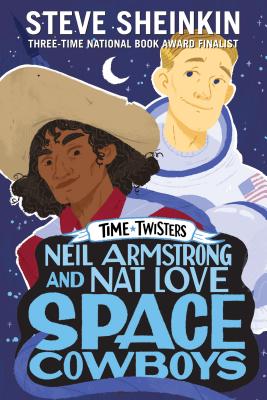 Description
---
Using his in-depth knowledge of American history, award winning author Steve Sheinkin and illustrator Neil Swaab create exciting adventures through time with historical figures going AWOL and true fun facts about each person.

WARNING: DO NOT BELIEVE THE STORY YOU'RE ABOUT TO READ.

Well, you can believe some of it. There is some real history. But also hijinks. Time travel. And famous figures setting off on adventures that definitely never happened—till now. Time is getting twisted, and it's up to two kids to straighten things out.

The students of Ms. Maybee's class used to think history was boring, but that was before time started to get twisted! When a spaceship carrying Neil Armstrong and Buzz Aldrin leaves 1969—and lands in 1869 Texas—cowboy Nat Love decides to trade in his horse for a trip to the moon. Can siblings Doc and Abby untwist history and get everyone back where they belong? Houston, we have a problem!

History will never be boring again! Check out Neil Armstrong and Nat Love, Space Cowboys and don't miss the other books in the Time Twisters series, including Abraham Lincoln, Pro Wrestler and Abigail Adams, Pirate of the Caribbean!
About the Author
---
Steve Sheinkin is the award-winning author of fast-paced, cinematic nonfiction histories for young readers. The Port Chicago 50: Disaster, Mutiny, and the Fight for Civil Rights, was a National Book Award finalist and received the 2014 Boston Globe/Horn Book Award for Nonfiction. The Notorious Benedict Arnold: A True Story of Adventure, Heroism & Treachery, won both the Boston Globe/Horn Book Award and the YALSA award for Excellence in Nonfiction for Young Adults. Bomb: The Race to Build-and Steal-the World's Most Dangerous Weapon was a Newbery Honor Book, a National Book Award Finalist, and winner of the Sibert Award and YALSA Award for Excellence in Nonfiction for Young Adults. Most Dangerous: Daniel Ellsberg and the Secret History of the Vietnam War was a National Book Award finalist, a YALSA Excellence in Nonfiction Award winner, and a Boston Globe/Horn Book Nonfiction Award winner. Sheinkin lives in Saratoga Springs, New York, with his wife and two children.

Neil Swaab is a New York City–based illustrator, designer, and author. His work has graced the covers and interiors of numerous books for children including the New York Times bestseller Big Fat Liar by James Patterson and Neil's own series, The Secrets to Ruling School. He has also animated for TV and enjoys teaching at Parsons School of Design.
Praise For…
---
"Mixing history, humor, and cartoon illustrations, Sheinkin's new series for young readers blends the appeal of Scieszka's Time Warp Trio, Osborne's Magic Tree House, and Kinney's Diary of a Wimpy Kid series." —Booklist

"By the end, readers will have learned quite a bit of history along with the protagonists, without being bored at all [in this] silly story." —Kirkus Reviews

"[A] lively Abraham Lincoln–themed romp . . . The truth about historical figures, Sheinkin suggests, is more interesting than the myths, and Lincoln's story concludes with hints about the historical mix-ups that will figure into subsequent books." —Publishers Weekly

"Black-and-white line drawings reinforce the silliness of the story, while the short chapters will keep reluctant readers hooked. A fun way to entice students to embrace what might seem, at first glance, like boring history." —School Library Journal

"A historical home run!" —Dav Pilkey, bestselling author of Captain Underpants

"Imagine what the world would be like if Steve Sheinkin had decided to become a NASCAR driver instead of one of the finest history writers I know of. Or what if Neil Swaab chose to be a pastry chef instead of becoming one of the most clever cartoonists alive? Well, those guys might be happy, but it would be a very dull world indeed because we wouldn't have the terrific "Time Twisters" series for our reading pleasure. If you want to have fun while simultaneously learning some truly valuable lessons about history, then you absolutely MUST read these books." —Nick Bruel, New York Times–bestselling author of the Bad Kitty series

"A dash of history. A scoop of fun. Give this book to hungry readers everywhere!" —Jennifer L. Holm, New York Times–bestselling author of The Fourteenth Goldfish, on Abigail Adams, Pirate of the Caribbean

Undefeated:

"A model of research and documentation as well as of stylish writing that tells an always absorbing story." —Booklist, starred review

"A gifted storyteller who never forgets the story in history. . . . Superb nonfiction that will entertain as it informs." —Kirkus Reviews, starred review

Most Dangerous:
"Easily the best study of the Vietnam War available for teen readers." —Kirkus Reviews, starred review

The Port Chicago 50:
"Sheinkin delivers another meticulously researched WWII story." —Publishers Weekly, starred review

Bomb:
"This is edge-of-the-seat material." —The Bulletin of the Center for Children's Books, starred review

The Notorious Benedict Arnold:
"American history is brought to life in this engaging story of revolution and treason." —School Library Journal, starred review