The Race to Space: Countdown to Liftoff (Epic Fails #2) (Paperback)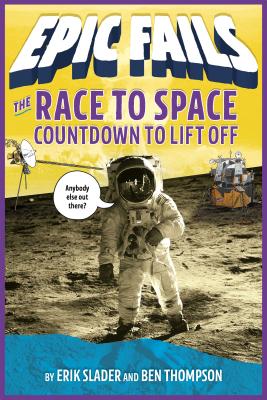 Other Books in Series
This is book number 2 in the Epic Fails series.
Description
---
In this second installment of the Epic Fails series, explore the many failures that made up the Race to Space, paving the way for humanity's eventual success at reaching the stars.
Today, everyone is familiar with Neil Armstrong's famous words as he first set foot on the moon: "one small step for man; one giant leap for mankind." He made it look easy, but America's journey to the moon was anything but simple. In 1957, when the Soviet Union launched Sputnik, the world's first satellite, into orbit, America had barely crossed the starting line of the great Space Race. Later that year, our first attempt was such a failure that the media nicknamed it "Kaputnik." Still, we didn't give up. With each failure, we gleaned valuable information about what went wrong, and how to avoid it in the future. So we tried again. And again. And each time we failed, we failed a little bit better.
The Epic Fails series by Erik Slader and Ben Thompson explores the humorous backstories behind a variety of historical discoveries, voyages, experiments, and innovations that didn't go as expected but succeeded nonetheless, showing that many of mankind's biggest success stories are the result of some pretty epic failures indeed.
This title has Common Core connections.
About the Author
---
Ben Thompson
is the author of a dozen books on various awesome historical subjects including the
Guts & Glory
series, and has appeared on television programs for the History Channel, Discovery, and the American Heroes Channel. He has written for
Cracked, Fangoria, Soldier of Fortune,
and
The American Mustache Institute
, currently owns four swords (if you count a letter opener shaped like Glamdring the Foe-Hammer), and can occasionally beat the
Star Wars Trilogy
arcade game with a single quarter.
Erik Slader is the creator of "Epik Fails of History" a blog and podcast about the most epic fails… of history.
With Ben Thompson, Erik is the coauthor of the Epic Fails series, including The Wright Brothers: Nose-Diving Into History and Race to Space: Countdown to Liftoff.
Tim Foley was born in Flint, Michigan, and attended college at the Kendall School of Art in Grand Rapids, Michigan. His has illustrated such books as Ben Thompson and Erik Slader's Epic Fails history series and Is it Safe to Kiss My Cat?
Tim lives and works in Grand Rapids with his wife, Terri.