Frozen Girl: The Discovery of an Incan Mummy (Paperback)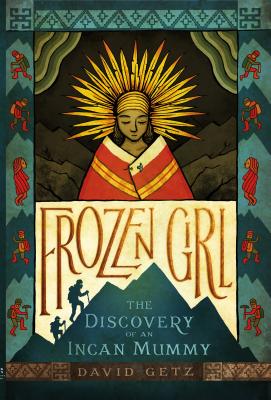 Description
---
Preserved in ice for over half a millenium, her body holds clues to understanding an ancient culture.
In this companion book to his award-winning Frozen Man, author David Getz gives young readers an up-close look at the discovery of the Incan mummy.
Over five hundred years ago, there lived a thirteen-year-old Inca girl in the mountains of Peru. Because of her perfect beauty, she was chosen to be the official sacrifice to the god of Mount Ampato. Feasting began days before the actual ceremony and priests gave the girl elaborate costumes to wear. Then the time came for her to be given to the mountain.
Centuries have passed and it is 1990. Hiking on the snowy peak of Mount Ampato, an archeologist and a mountain climber make an unusual find: charred wood and other signs of ancient human life buried in the frozen ground. Before long, they uncover the mummified body of a young girl, and a scientific inquiry begins.
Frozen Girl shows how scientists pieced together clues to the mummy's identity, including theories on how and why she was sacrificed. Evocative illustrations from Peter McCarty bring the girl and her culture to life. Photographs of the actual mummy are also included.
Praise for Frozen Girl:
"Leathery faces staring eyelessly over the centuries are the images that will stick with young readers. These...books about mummies retrieved from ice and swamp will be a natural draw for kids who will find the subject material fascinating—and they'll learn a lot about history and science along the way." —Booklist
"The serendipitous discovery in 1995 of the frozen remains of a pre-Columbian Inca girl has been hailed as one of the most significant archaeological finds of this decade.... Getz's book...reads like great adventure fiction and will entice even reluctant readers." —School Library Journal
More from David Getz:
Purple Death
Frozen Man
About the Author
---
David Getz is the award-winning author of the middle-grade novels Thin Air and Almost Famous, and the nonfiction books Frozen Man and Frozen Girl. When not writing, Mr. Getz works as an elementary-school principal in New York City.
Peter McCarty
is the author and illustrator of
T Is for Terrible
,
Baby Steps
,
Little Bunny on the Move
and
Hondo and Fabian
, for which he won a Caldecott Honor. He lives with his wife and two children in Upstate New York.
Praise For…
---
"Leathery faces staring eyelessly over the centuries are the images that will stick with young readers. These...books about mummies retrieved from ice and swamp will be a natural draw for kids who will find the subject material fascinating—and they'll learn a lot about history and science along the way." —Booklist
"The serendipitous discovery in 1995 of the frozen remains of a pre-Columbian Inca girl has been hailed as one of the most significant archaeological finds of this decade.... Getz's book...reads like great adventure fiction and will entice even reluctant readers." —School Library Journal