How Many Guinea Pigs Can Fit on a Plane?: Answers to Your Most Clever Math Questions (Paperback)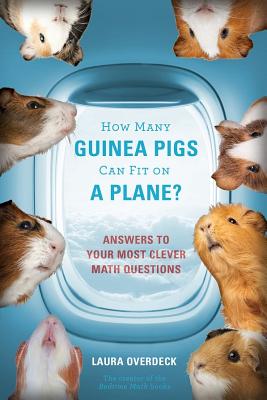 List Price: $12.99
Our Price: $9.99
(Save: $3.00 23%)
Description
---
How many bees does it take to make one jar of honey?

How many soccer balls would fit inside a hollow Earth?

How many pieces of gum would it take to stick you to a wall—and keep you there?

Believe it or not, you can find out the answers to these questions yourself—using math! Combining questions from real readers like you with surprising answers, Laura Overdeck's How Many Guinea Pigs Can Fit on a Plane? proves that numbers can be fun—and that math is power.
About the Author
---
Laura Overdeck has a BA in astrophysics from Princeton University and knows numbers. Since she enjoys them so much, she (along with her husband John) decided to give their three children math problems instead of bedtime stories, and BEDTIME MATH was born.
Praise For…
---
"Proof that word problems can be fun." —School Library Journal

Bedtime Math:

"Overdeck debuts with a just-irreverent-enough book . . . . She shows that she knows her audience and loves her subject. Paillot (the My Weird School series) is a great choice for collaborator . . . he does it all with a good-hearted, goofy energy that should propel readers through the pages." —Publishers Weekly, starred review

"[This program] may have the potential to make bedtime math problems as loved as the bedtime story. . . . Hats off to Laura Overdeck. This project is a winner. A simple idea that may have as much of an impact on improving the science, technology, engineering and math interest in our children as many other well-funded programs." —Wired/GeekDad

"We all know we should read to our kids. But even if bedtime stories are routine in your house, when's the last time you gave your kids a bedtime math problem? Probably never. And that's one reason American students might struggle in a future that requires mathematical literacy." —USA Today

"Besides stopping the bad-mouthing of our own math skills and making sure that we're distributing our numbers-related conversations equally among our sons and daughters, what can a parent do to increase "math awareness" in our everyday lives? How about a bedtime math problem? . . . [in Bedtime Math]They're meant to be solved in their heads, and to promote both giggles and mathematical thought." —New York Times Motherlode Blog

"The U.S. ranks 25th out of 34 countries when it comes to kids' math proficiency. One New Jersey parent wants to change that by overhauling the culture of math. An astrophysics graduate and mother of three kids, she started a ritual when each child was 2 years old: a little bedtime mathematical problem-solving that soon became a beloved routine." —NPR