Secrets of the Dragon Tomb (Paperback)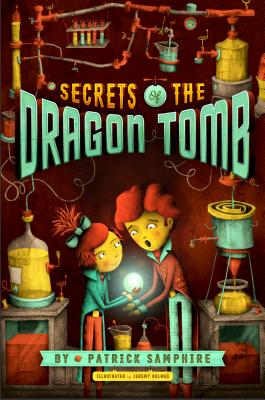 $19.99
Email or call for price.
Description
---
Mars in 1816 is a world of high society, deadly danger, and strange clockwork machines. Pterodactyls glide through the sky, automatic servants hand out sandwiches at elegant garden parties, and in the north, the great dragon tombs hide marvels of Ancient Martian technology.

Twelve-year-old Edward Sullivan has always dreamed of becoming a spy like the ones he reads of in his favorite sci-fi magazine, Thrilling Martian Tales. Instead, he spends his days keeping his eccentric family from complete disaster . . . that is, until the villainous archaeologist Sir Titus Dane kidnaps Edward's parents as part of a scheme to loot an undiscovered dragon tomb. Edward sets out on a perilous journey to save his parents and protect the dragon tombs in the process. Turns out spywork is a bit more challenging than he had imagined. . . .

Secrets of the Dragon Tomb by Patrick Samphire is a classic adventure story, full of fun, humor and heart with stunning illustrations by Jeremy Holmes throughout. The intergalactic fun and adventure continues in Book 2 of the Secrets of the Dragon Tomb series, The Emperor of Mars.

"Science fiction meets classic adventure tales in this quirky novel, and it's a real treat to know that it's the first in an intended series." —The Bulletin

Also in the Secrets of the Dragon Tomb series:
Secrets of the Dragon Tomb
The Emperor of Mars
About the Author
---
Patrick Samphire grew up in England and Zambia. He holds a PhD in physics from the University of Essex and attended the Clarion Writers Workshop in Seattle. He lives in Wales with his family. Secrets of the Dragon Tomb was his debut novel.

Jeremy Holmes is the creative mind behind Mutt Ink, a graphic design studio, and the illustrator of many children's books. His first book, There Was an Old Lady, was awarded Bologna Razzi's Opera Prima award at the 2010 Bologna Book Fair. He lives in Pennsylvania.
Praise For…
---
A Utah Beehive Award Nominee
An Andre Norton Award Reading List Selection

"Abundant humor, intricate worldbuilding details, and precisely timed slapstick and mayhem mesh as neatly as the gears and levers of the water abacus, producing a gorgeously articulated clockwork of a novel." —Publishers Weekly, starred review

"Engaging characters and an action-packed plot are bolstered by some meaningful observations on
Martian colonialism...this will appeal to fans of zany adventure tales." —Booklist

"Samphire is clearly having the time of his life with this yarn, leavening character types with emotional honesty . . . A bit Tom Swift-meets-early Heinlein, joyfully modernizing space pulp for a new audience."—Kirkus Reviews

"Science fiction meets classic adventure tales in this quirky novel, and it's a real treat to know that it's the first in an intended series." —The Bulletin

"Spiced with exciting illustrations and plenty of humor . . . Short, action-filled chapters and a satisfying denouement will have readers clamoring for the next installment." —VOYA