A Whisper of Horses (Hardcover)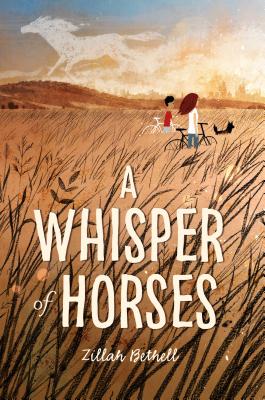 $16.99
Email or call for price.
Description
---
Will she find the last horses on earth?

Serendipity lives inside a walled city. Before her mother died, she gave Seren an old figurine of a horse. Horses no longer exist in Serendipity's world, but when she discovers a map that may lead her to real horses, she starts on a journey that will take her far from everything she knows. Traveling with an orphan boy, Tab, and his beloved dog, she's soon on the run from a powerful and dangerous man who will do anything to make sure Serendipity never leaves the walled city again.

Zillah Bethell's middle-grade fiction debut A Whisper of Horses is original, breathtaking, adventurous, and moving. It is a story of friendship, perseverance, and resilience that readers won't soon forget.
About the Author
---
Zillah Bethell was born in a leprosy hospital in Papua New Guinea, spent her childhood barefoot playing in the jungle, and didn't own a pair of shoes until she came to the United Kingdom when she was eight years old. She was educated at Oxford University and lives in Wales with her family. A Whisper of Horses is her first children's book.
Praise For…
---
"In this densely plotted dystopian novel, newly orphaned 12-year-old Serendipity sets out in search of supposedly extinct horses. ...Bethell's inventive heroine propels an action-packed adventure."--Publishers Weekly

"Bethell turns all the old formulas on their head.... As with all good fantasy, there is a strong requisite of reality...the narrative is driven by the skillfully articulated sentiments of a horse-obsessed girl."--The Telegraph (U.K.), five stars

"Inside the walled city of Lahn Dan, Serendipity and her mother live as Pbs, the lowest of the city's three castes. When Serendipity's mother dies, she leaves Serendipity a figurine of a horse, an animal that has long been extinct in the world. Soon, she learns more about her mother's history and discovers a map that might lead to horses. ...This debut offers up a solid dose of middle-grade adventure."--Booklist