Stephen Coonts' Deep Black: Payback (Paperback)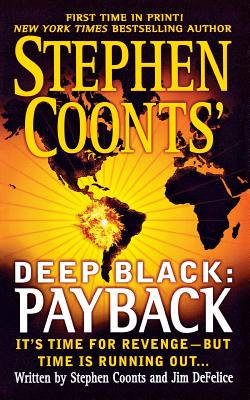 $27.99
In Our Warehouse - Expected arrival in 2-5 days
Other Books in Series
This is book number 4 in the Deep Black series.
Description
---
RECRUITED:
A crack team of cover agents.
Word is out to ex-Marine sniper Charlie Dean and his team of the National Security Agency: Infiltrate the highest stratum of Peruvian political power and derail a renegade general from acing an election. All Dean has to do is find a way inside an impenetrable bank vault protected by armed guards round the clock–it's all in a day's work for the men and women of Deep Black.
ENGAGED:
A violent political coup
But things get complicated when Dean and company discover the renegade general's second plot. The military madman's ruse—a nuclear weapon he claims is in the hands of Marxist guerillas, a bomb that only he can rescue…and control.
IGNITED:
A devastating terrorist plot.
When the general and his plot are exposed, the NSA concludes the greatest threat is over. But in fact, it's only just beginning…in Stephen Coonts' Deep Black: Payback, cowritten with Jim DeFelice.
About the Author
---
Stephen Coonts is the author of The Disciple, The Assassin, and the Deep Black and Saucers series, among many other bestsellers. His first novel, the classic flying tale Flight of the Intruder, spent more than six months at the top of The New York Times bestseller list. A motion picture based on the book was released in 1991. His novels have been published around the world and translated into more than a dozen languages. In 1986, he was honored by the U.S. Naval Institute with its Author of the Year Award. He is also the editor of several anthologies, Combat, On Glorious Wings, Victory and War in the Air. Coonts served in the Navy from 1969 to 1977, including two combat cruises on the USS Enterprise during the last years of the Vietnam War.

Best known for American Sniper, Jim DeFelice is the author of more than a dozen New York Times best-sellers and a host of other books, many of them celebrating the lives of unsung American heroes.
Praise For…
---
"Frighteningly realistic." —Maxim on Liberty
"Gripping...Coonts's naval background and his legal education bring considerable authority to the story, and the narrative is loaded with detailed information about terrorist networks, modern weaponry, and international intrigue...the action is slam-bang" —Publishers Weekly on Liberty
"This master of the techno-thriller spins a bone-chilling worst-case scenario involving international spies, military heroics, conniving politicians, devious agencies, a hijacked nuclear sub, lethal computer hackers, currency speculators, maniac moguls and greedy mercenaries that rivals Clancy for fiction-as-realism and Cussler for spirited action. . . . [Coonts] never lets up with heart-racing jet/missile combat, suspenseful submarine maneuvers and doomsday scenarios that feel only too real, providing real food for thought in his dramatization of the missile-shield debate." —Publishers Weekly (Starred Review) on America
""A high-octane blend of techno-wizardry [and] ultraviolence . . . [Coonts] skillfully captures the postmodern flavor of Hong Kong, where a cell phone is as apt as an AK-47 to be a revolutionary weapon."-USA Today on Hong Kong" —
"Coonts knows how to write and build suspense. . . this is the mark of a natural storyteller" —The New York Times Book Review on Flight of the Intruder