Markets of Provence: Food, Antiques, Crafts, and More (Paperback)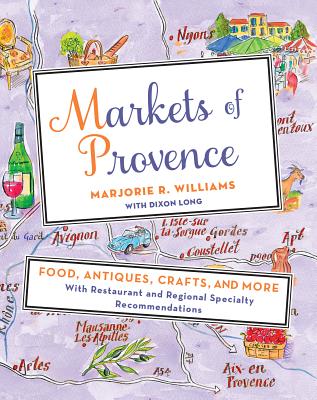 $24.99
Email or call for price.
Description
---
Provence, France, is justly famous for its dazzling light, vibrant colors, rich history, and flavorful foods and wines. And its markets have been the beating heart of Provençal life since the Middle Ages. In Markets of Provence, Marjorie R. Williams whisks you away to 30 of the best. This pocketable guide, complete with detailed maps and organized by days of the week, gives you all the information you need for your visit to this Mediterranean region.

Included are: indispensable advice on timing, navigation, negotiation and payment; tips on etiquette while surveying vendors' produce; and even some French language lessons to help you brush up on your essential français. Complete with restaurant recommendations and other useful tips, this book will help you get the most out of the experience. Supplemented with beautiful full-color photographs and color-coded maps, Markets of Provence is a must-have for every traveler.
About the Author
---
Marjorie R. Williams is a writer whose work has been featured in food and travel magazines and blogs. She has a B.A. from the University of Chicago and an M.F.A. in Creative Writing from Lesley University. Williams travels extensively and believes that exploring markets is an ideal way to learn about the local culture. She resides in Boston but lived in Paris while researching and photographing Markets of Paris, 2nd ed.
Praise For…
---
"Thorough, accurate and mouth-watering. Essential reading for all market-hoppers." —Peter Mayle, author ofA Year in Provence and A Good Year

"Marjorie Williams reveals the best of Provence's beautiful markets in this charming guide. Her tips on brocantes, local goat cheeses, vegetable vendors, and more had me dreaming of a sun-drenched vacation, straw basket slung over one arm." –Ann Mah, author of Mastering the Art of French Eating

"The idea of organizing the book around days of the week is brilliant. I would strongly recommend this travel companion to anyone who's planning to visit Provence. —Nicolas Martin, founder of Flea Market Insiders

"What a delicious idea--that of discovering Provence via its authentic markets! To read Marjorie's informative guide is to be whisked away in a wicker panier, one bursting with leafy parsley, nougat, and olives, as a friend leads you thoughtfully to her favorite market stands. —Kristin Espinasse, creator of the French Word-A-Day blog and author of Words in a French Life

"Wonderfully engaging and evocative. This book with its stunning images not only transports me back to Provence but makes me want to immediately pack my bags and do it all again, armed with this little gem." —Sandy L. Price, author of The Flea Markets of France and Vintage and Antique Fairs of England

"From the gracious and knowledgeable Marjorie Williams comes yet another gem for the Francophile traveler: a guide to Provençal markets that's comprehensive, carefully researched, and a pleasure to read." —Clotilde Dusoulier, author of ChocolateAndZucchini.com and The French Market Cookbook

"There is no better way to experience France than by wandering aimlessly through a farmers' market in Aix or Avignon—the colors and fragrances, the wild strawberries and fresh cheeses. Marjorie Williams's Markets of Provence is indispensable, an authoritative and seductive guide to the best of the region." —Luke Barr, author of Provence 1970