Tom Clancy's Op-Center: Out of the Ashes (Paperback)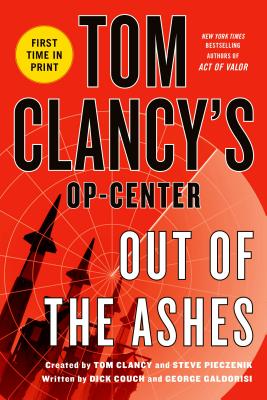 Description
---
Tom Clancy's Op-Center is back with this new thriller written by the New York Times bestselling authors of Tom Clancy's ACT OF VALOR and featuring a chilling, ripped-from-the-headlines scenario.

Before 9/11 America was protected by a covert force known as the National Crisis Management Center. Commonly known as Op-Center, this silent, secret mantel guarded the American people and protected the country from enemies. The charter was top secret and Director Paul Hood reported directly to the president. Op-Center used undercover operatives with SWAT capabilities to diffuse crises around the world, and they were tops in their field. But after the World Trade Center disaster, in the interest of streamlining, OP-Center was disbanded—leaving the country in terrible danger.

But when terrorists detonate bombs in sports stadiums around the country leaving men, women and children dead or mutilated, the President executes an emergency order to bring back Op-Center—an Op-Center capable of dealing with the high tech crises of the 21st Century, and there is a lethal one brewing in the Middle East. A renegade Saudi Prince with ambitions of controlling the world's oil supply has an ingenious plot to manipulate America into attacking Syria and launching a war against Iran. Next, they would ignite a sleeper cell to attack the America homeland, resulting in a bloodbath unlike any other. Only the men and women of Op-Center, using sophisticated technology, realize what is about to be unleashed. Only they have the courage to issue a warning no one wants to hear. But will anyone believe them?
About the Author
---
DICK COUCH is a graduate of the U.S. Naval Academy who has served as a Navy SEAL and as a CIA case officer. His nonfiction works include By Honor Bound, Down Range, The Finishing School, and The Warrior Elite.

GEORGE GALDORISI is a career naval aviator. His Navy career included four command tours and five years as a carrier strike group chief of staff. He has written several books, including (with Dick Couch), the New York Times best seller, Tom Clancy Presents: Act of Valor; The Kissing Sailor, which proved the identity of the two principals in Alfred Eisenstaedt's famous photograph; and over 200 articles in professional journals and other media. He is the Director of the Corporate Strategy Group at the Navy's C4ISR Center of Excellence in San Diego, California. He and his wife Becky live in Coronado, California.

Tom Clancy's many thrillers include The Hunt for Red October, Patriot Games and Clear and Present Danger. He died in 2013.

Tom Clancy's many thrillers include The Hunt for Red October, Patriot Games and Clear and Present Danger. He died in 2013.

Steve Pieczenik is an author and co-creator of Tom Clancy's Op-Center series.
Praise For…
---
"The U.S intelligence agencies have spent billions since 9/11 learning how to 'connect the dots.' But what if there are only one or two dots? Out of the ashes is a smoothly written story by two authors who understand the inner workings of U.S. intelligence, government, and the military, and tell a frightening and exciting tale about a very new, but also a very old threat." —Larry Bond, New York Times bestselling author of Dangerous Grounds

"Thriller addicts like me devoured every Tom Clancy's Op-Center tale. Now they are back, intricately plotted, with wonderfully evil villains and enough realistic military action and suspense to ruin a couple of night's sleep. Highly recommended." —Stephen Coonts, New York Times bestselling author of Pirate Alley

"Fans of the original Op-Center series created by Tom Clancy and Steve Pieczenik will welcome this solid continuation from Couch (SEAL Team One) and Galdorisi (Coronado Conspiracy). . . . This thriller procedural packs plenty of pulse-raising action. The open ending promises more to come." —Publishers Weekly

"Op-Center is back with a vengeance! OUT OF THE ASHES isn't just a reboot of the Op-Center series; it's one of the best techno-thrillers to hit the shelves in a long time. Dick Couch and George Galdorisi have just raised the bar for military adventure fiction. Suit up, strap in, and hang on, because you're in for one hell of a ride." —Jeff Edwards, bestselling author of The Seventh Angel and Sword of Shiva