The Cabinet of Wonders: The Kronos Chronicles: Book I (Paperback)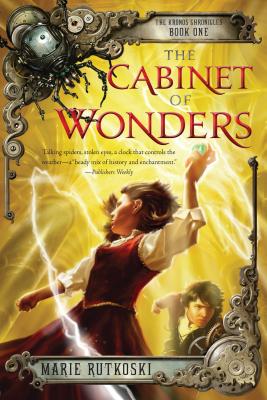 Email or call for price.
Not Available at This Time
Other Books in Series
This is book number 1 in the Kronos Chronicles series.
Fall 2008 Kids' List
---
"This is a book to get lost in, to explore with curiosity and delight. Upon completion of the world's finest astronomical clock, Peter Kronos, is betrayed by the prince who commissioned it, blinded, and sent home. His daughter, Petra, sets out to retrace her father's journey and reclaim his eyes. An examination of the true meaning of blindness -- and an exciting start to a promising new series featuring a heroine with magic and spunk."
— Emily D. Pardo, Books & Books, Coral Gables, FL
Description
---
Marie Rutkoski's startling debut novel, the first book in the Kronos Chronicles, about the risks we take to protect those we love, brims with magic, political intrigue, and heroism.
Petra Kronos has a simple, happy life. But it's never been ordinary. She has a pet tin spider named Astrophil who likes to hide in her snarled hair and give her advice. Her best friend can trap lightning inside a glass sphere. Petra also has a father in faraway Prague who is able to move metal with his mind. He has been commissioned by the prince of Bohemia to build the world's finest astronomical clock. Petra's life is forever changed when, one day, her father returns home – blind. The prince has stolen his eyes, enchanted them, and now wears them. But why? Petra doesn't know, but she knows this: she will go to Prague, sneak into Salamander Castle, and steal her father's eyes back. Joining forces with Neel, whose fingers extend into invisible ghosts that pick locks and pockets, Petra finds that many people in the castle are not what they seem, and that her father's clock has powers capable of destroying their world.
The Cabinet of Wonders is a 2009 Bank Street - Best Children's Book of the Year.
About the Author
---
Marie Rutkoski is the author of The Winner's Trilogy, The Kronos Chronicles, and The Shadow Society. Rutkoski is currently a professor at Brooklyn College, where she teaches Renaissance Drama, children's literature and creative writing. She lives in Brooklyn, New York.
Praise For…
---
"...a sweet and charming fantasy, perfect for fans of ELLA ENCHANTED or THE PRINCESS ACADEMY.... Lorelei King is a talented narrator whose superb creation of whimsical characters is beautifully done." —AudioFile, Winner of an Earphones Award
"In this utterly engrossing book, Marie Rutkoski combines sixteenth century European history with magic-rich fantasy to create a story that readers will find irresistible." —Through The Looking Glass Children's Book Review
"Readers . . . who enjoy literary fantasy are likely to savor Marie Rutkoski's debut novel, which was inspired by the grisly legend associated with the famous astronomical clock in Prague's Old Town Square." —The Wall Street Journal
"Like Phillip Pullman's young Lyra, [Petra] matures in worlds more complex than she had imagined." —The Chicago Tribune
"Add this heady mix of history and enchantment to the season's list of astonishingly accomplished first novels. . . . [Petra] proves herself a worthy relative of, say Philip Pullman's quick-thinking, fearless heroines. . . Infusions of folklore don't slow down the fast plot but more deeply entrance readers." —Starred, Publishers Weekly
"Loved this book. Strong girl character. Fascinating alternate Bohemia world. Clever silhouette cover." —BOUND, MSN Entertainment Book Blog
"For those who like their fantasy with a splash of history, or their history with a twist of magic, this book is ideal." —School Library Journal
"Fresh and fortuitous." —The Horn Book
"Rutkoski poses searching questions about perception and judgment, and plants plenty of seeds for future installments, but this first novel of adventure, loyalty and familial love (not to mention magic) wraps up quite satisfyingly." —Shelf Awareness
"The Cabinet of Wonders is just that--a book to get lost in, to be amazed and astonished by, to explore with curiosity and delight." —Books & Books, Miami, Florida
"Rutkoski's fantasy features quirky characters, imaginative world building, and a hint of trouble to come that will create demand for the next book in the planned Kronos Chronicles series." —Booklist
"Though Rutkoski wraps up her magical tale beautifully, her lovable cast and intriguing scenarios are certain to bring readers back for a second round in The Kronos Chronicles." —BookPage
"Rutkoski effectively uses the romance of the region and the mystique of gypsy legends to evoke an atmosphere of danger and adventure. Her well-crafted fantasy world is a mix of magic and technology . . . that, along with the thoroughly likeable characters, will quickly draw readers in and have them eagerly anticipating the next installment in the series." —Bulletin for the Center of Children's Books
"It was like a mix of Harry Potter and Lord of the Rings." —A YALSA YA Galley Teen Reader