Double Puppy Trouble (McKellar Math) (Hardcover)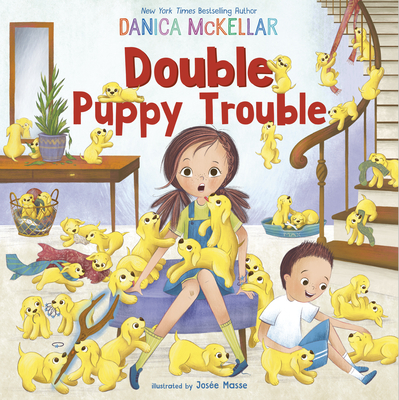 Description
---
The newest math-focused picture book from New York Times bestselling author Danica McKellar is full of puppy-fueled chaos and a message of gratitude, with a double helping of fun!

Moxie Jo always wanted MORE. But soon she'd get MORE than she bargained for!

Spunky and energetic, Moxie is just like any other girl--aside from the fact that she has to have the MOST of everything! If she doesn't have the most toys, the most A's on tests, or the most time on the swing, then she makes the MOST noise! So when Moxie finds a magic stick that can double anything, she doesn't hesitate to use it--but when the button gets stuck, she may start to realize that less really is more! Teach the power of doubling through this playful puppy romp!
About the Author
---
Danica McKellar is the New York Times bestselling author of groundbreaking math books, including Do Not Open This Math Book, picture books Goodnight, Numbers, and Ten Magic Butterflies, and the middle school hit Math Doesn't Suck. She is a summa cum laude graduate of UCLA with a degree in mathematics and has published an original theorem in the prestigious Journal of Physics now known as the Chayes-McKellar-Winn theorem. She is the recipient of mathematics and educational awards, including the Communication Award from the Joint Policy Board for Mathematics, and UCLA's Science and Education Pioneer Award in 2018. She testified before Congress about encouraging women to excel in mathematics, and was even named Person of the Week by ABC News for her unique and valuable work as a math education author.

Danica is also well known for her acting roles on The Wonder Years, The West Wing, multiple Hallmark Channel movies, and more. Visit McKellarMath.com to see the ever-growing line of Danica's helpful, fun math books!

Josée Masse is the illustrator of the bestselling The Care and Keeping of You, and a recognized artist in her native Canada, having illustrated numerous French and American picture books. She began her career as a graphic designer. Josée lives and works outside Montreal.
Praise For…
---
"Cleverly teaching how numbers double as puppies multiply all over the page, McKellar might trick your little one into learning some math principles as they giggle along with this story of doggies run amok." —Entertainment Weekly