Three-Ring Rascals, Books 3-4: The Circus Goes to Sea; Pop Goes the Circus! (CD-Audio)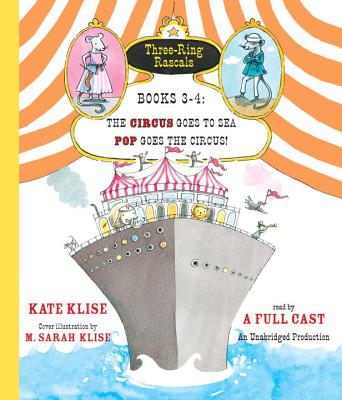 $20.00
Email or call for price.
Description
---
Three-Ring Rascals, Book 3: The Circus Goes to Sea
For many years, Sir Sidney's Circus has traveled by train. But one day a letter arrives from Miss Flora Endora Eliza LaBuena LaPasta inviting the circus to travel aboard the SS Spaghetti. Who can resist? The Spaghetti is a floating palace of elegance and entertainment. There's only one problem: Miss LaPasta doesn't want Barnabas Brambles to come aboard, because she's heard he's the meanest man alive. Lucky for Barnabas Brambles, his boss is Sir Sidney, the nicest man alive. Sir Sidney insists the entire circus, including Barnabas Brambles, accept the invitation. But Leo doesn't like water. Elsa's never been swimming. The Famous Flying Banana Brothers have no idea where they'll put their trapeze. And what's that large object up ahead in the water?

Three-Ring Rascals, Book 4: Pop Goes the Circus!
Two runaway rascals go on the road in the fourth installment of this highly praised, popular series.

Bert the circus mouse has gone missing! The members of Sir Sidney's Circus figure he's nearby, sulking after an argument with his sister, Gert. Little do they know that he's been carried away by a rogue balloon. Meanwhile, in a faraway state, Flora LaPasta is tired of being ignored as her parents prepare for a new baby, so she mails herself to Sir Sidney's Circus in protest.

A popped balloon and a mixed-up shipment soon bring Bert and Flora together. In the worst of times, a best friendship is born. But can the pair make it through a world of bad drivers, angry mobs, and greedy robbers? How long can a circus mouse and a runaway girl survive on their own?

Praise for the Three-Ring Rascals Series:
"Youngsters will find reading smooth sailing and look forward to future escapades." —Kirkus Reviews

"The story zips along, the text and illustrations are full of playful surprises, and the author sustains a tone of rare and genuine sweetness . . . Rich and inventive." —Chicago Tribune

"Absurd situations, winning characters and plenty of heartfelt moments and laughs combine to make this a surefire hit." —Kirkus Reviews

"A fun pick for fans of silly stories and for reluctant readers, too." —School Library Journal
About the Author
---
KATE KLISE is an author of many genres. She has written picture books, as well as middle-grade novels, all illustrated by her sister, Sarah. She has also written two young adult novels and is a freelance reporter for People magazine. Kate lives and writes in Norwood, Missouri.