Three-Ring Rascals, Books 1-2: The Show Must Go On!; The Greatest Star on Earth (CD-Audio)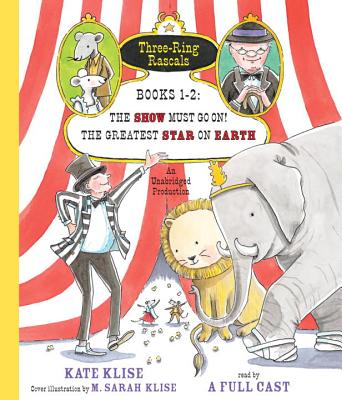 $20.00
Email or call for price.
Description
---
This audiobook collection includes:

Three-Ring Rascals, Book 1: The Show Must Go On!

When Sir Sidney, a kindly old circus owner, becomes too tired to travel with his show, he places a Help Wanted ad in the newspaper. Enter Barnabas Brambles: "I have a degree in lion taming from the University of Piccadilly Circus." But does Leo the lion need taming? Will Elsa the elephant still get her gourmet peanuts? And what will Brambles say when he discovers Bert and Gert—two mice who travel with the circus on popcorn cleanup patrol?

Brambles has big plans: More cities! More shows! No more free popcorn. Soon he's made a big mess of Sir Sidney's Circus, but Leo, Elsa, Bert, Gert, and the rest of the performers agree: The Show Must Go On!


Three-Ring Rascals, Book 2: The Greatest Star on Earth

The rascals from the world's friendliest family circus are back in the second installment of this "smafunderful"* series.

Everyone knows Sir Sidney's Circus is the best in the world. But who's the star of the show? The Circus Times is having a contest to find out. Just thinking about it gives Sir Sidney a worrywart, and it's quickly clear why. Soon after he goes off to rest, the performers start thinking too much about winning the trophy and not enough about putting on a good show. 

Meanwhile, it looks as if ringmaster-in-training Barnabas Brambles might need some help managing the crew, so Bert and Gert, the sly brother-and-sister mice who travel with the show, set out to write a book to teach him how it's done.

Does Bert and Gert's plan work? And who is the star of the circus? All will be revealed in The Greatest Star on Earth.

*Kirkus Reviews
About the Author
---
KATE KLISE is an author of many genres. She has written picture books, as well as middle-grade novels, all illustrated by her sister, Sarah. She has also written two young adult novels and is a freelance reporter for People magazine. Kate lives and writes in Norwood, Missouri.