In the Shadow of the Hanging Tree (Paperback)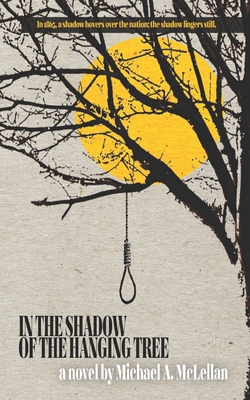 $12.99
In Our Warehouse - Expected arrival in 2-5 days
Description
---
"...Raw and emotional...This book touches on both the atrocities of slavery and the abysmal treatment of Native Americans. Mr. McLellan is a brilliant storyteller who has woven together this compelling story that is both beautiful and ugly." Audio Killed The Bookmark.
"Outstanding and brilliant...I never expected it to be this good...John Steinbeck good...Wallace Stegner good." Elyse Walters, Goodreads Review
"...thought-provoking and heart breaking historical fiction." Books Teacup and Reviews.
Born into slavery, Henry's young life is spent working in tobacco drying sheds on Missouri plantations. Freed at the onset of the Civil War, he's alone, starving, and on the run from Confederate militiamen. Lying broken and near death in the middle of the Kansas prairie, Henry is rescued by a Cheyenne hunting party and nursed back to health by Standing Elk, a tribal elder and medicine man. Standing Elk claims he foresaw Henry's coming, and befriends him. Five years later, Clara Hanfield, the daughter of a powerful New York shipping magnate, escapes her tyrannical father and travels west in pursuit of John Elliot, the man she loves. John, a newly appointed U.S. Army lieutenant, is sent to the Dakota Territory in disgrace when his forbidden love affair with Clara is discovered by Clara's father. Once there, John reluctantly participates in a government conspiracy to incite an all-out war with the Indians; a war meant to finally eliminate them as an obstacle to the westward expansion. After participating in a raid on an Indian camp, John suffers self-doubt and shame as his morality struggles against his loyalty to the U.S. government. Henry, now an army scout and Indian interpreter, finds himself caught in the middle. Aided by Clara, John, and Standing Elk, Henry must battle hatred, greed, and the ghosts of his past during this turbulent and troubling time in American history.