Fat Loss Workout Plan - The Flight of Icarus (Paperback)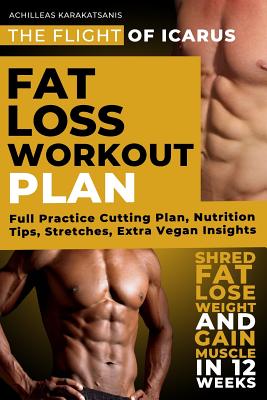 $11.99
Email or call for price.
Description
---
Buy the Paperback and Get Free the Kindle edition
Get your Body Sculpted in 12 Weeks

A complete fat loss workout Plan for those who want to reach their target and shape their body as they wish. Includes 12 Weeks Program with 31 Workout Plan Indexes.
What you will find in this book:
Cutting Plan Terms' definition
Compound Movements explanation
Nutrition Suggestions for Vegetarians
Everyday advises about your meals, your water consumption and your daily habits
Daily tasks' Index to Challenge Yourself while working, walking or eating
Stretching Section
This Book will help you to:
Shred Fat
Lose Weight
Get Lean in twelve Weeks
Understand the Basics of losing Fat without losing Muscle
Book Contents
Chapter One - What is a Cutting Plan
Chapter Two - Macronutrients and Dietary Supplements
Chapter Three - Daily Calorie Intake
Chapter Four - Basic Metabolic Rate, Introduction to your Daily and Total Calories
Challenge Yourself
Chapter Five - Introduction to Stretching, Dynamic and Static
Chapter Six - The Flight of Icarus
Twelve Weeks Workout Plan