Unhinged in Ethiopia: Two Thousand Kilometers of Hell and Heaven on a Bicycle (Paperback)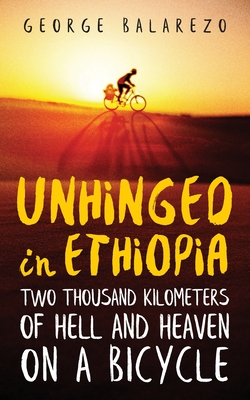 $15.74
Email or call for price.
Description
---
What readers are saying:
★★★★★ "Balarezo's eagerness to embrace and learn from discomfort will inspire readers to question the conveniences they curate in their own lives."
★★★★★ "The author's ability to remain candid and dissect his own thoughts and actions is something that many strive for and fail. Although the adventure itself is enthralling, the soul-searching that this book evokes is far more impressionable."
★★★★★ "This is one of the books you read every now and again which really captures your imagination. This is such an inspiring story with countless stories within the story."
Book Description
After confrontations with AK-47-armed policemen in Xinjiang, China, and being thrown off his bicycle by gusts of wind in Mongolia's Gobi Desert, George Balarezo cycles across Ethiopia-Africa's most mountainous country and, as it happens, a repository for the continent's richest cultural legacy.
He's assaulted daily by stone-hurling children, crashes a wedding party, scales a cliff with Ethiopian Orthodox monks, and sweats it out in the Afar Triangle-with the world's highest average temperature, it's earned its nickname of "hell on earth"-and witnesses the miracles of Ethiopian spirituality alongside murderers, cancer patients, and the mentally ill. It is a soul-stirring adventure that tests the limits of his sanity and gifts him invaluable life lessons that he is eager to share.