Amharic Alphabets Guessing Game with Amu and Bemnu: Sun Group (Vol 2 Of 3) (Paperback)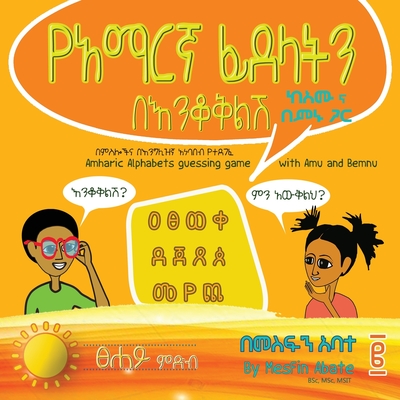 $16.99
In Our Warehouse - Expected arrival in 2-5 days
Description
---
Amharic is one of the numerous indigenous languages used in Ethiopia. The language has its roots from an ancient language called Ge'ez (ግዕዝ). Amharic being a phonetic language represents each sound with distinct alphabets through a writing system named Fidel (ፊደል). Apparently, the number of alphabets could be overwhelming for beginners who are interested to learn the language.
By analyzing the underlying geometries, overall shapes, and stroke-patters used to construct Amharic alphabets, this book adopts shape-based categories and the author introduced three distinct sets named as Rainbow, Sun, and Cross groups. New and creative educational approaches are inevitable to make the learning experience more fun and playful.
A traditional Ethiopian guessing game (Enqoqlish) is used as a medium to enhance the imagination of readers and help them easily memorize the shapes of the alphabets. In the game, two characters Amu and Bemnu, take turns thoroughly describing the features and show shapes of the alphabets through body signs without telling the actual name of the letters. The other participant guesses what letter best fits the descriptions. Once the letter is identified, families of the alphabet are discussed with illustrations along with sample words that start with the Fidel. Such exercise helps readers to establish visual relationships among the alphabets and with other familiar objects from their surroundings. To better assist readers, and If you are learning Amharic as a second language, written pronunciations, and intonations of each alphabet and sample words are included using the English alphabets.
Snippets of Ethiopian historic heritages are included as illustrations to instigate curiosities in readers about the fact that Ethiopia is actually a country with remarkable historic footprints. The book series can be used as a teaching guide and educational reference for parents and educators.
Enjoy the book and have fun in learning and teaching Amharic Alphabets